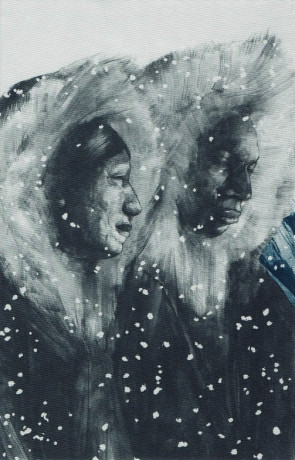 Book details
The Left Hand of Darkness

Publisher:

ISBN:

978-1857230741

Published:

March 1969

Pages:

288

Format reviewed:

Hardback

Review date:

03/10/2018

Language:

English
Awards won
About the author
The Left Hand of Darkness was first published almost 50 years ago, receiving critical acclaim and firmly establishing Le Guin as a serious, talented author. It's known as one of the first examples of feminist science fiction and retrospectively won the Hugo and Nebula awards. I don't think it's an exaggeration to say that it stands amongst the most important works of science fiction, helping to raise perception of the genre in the eyes of those who don't usually read it. There is no doubt that this book has been instrumental in changing the future of the genre. The book forms part of The Hainish Cycle, a series of connected works by the author, including the award winning The Dispossesed and the wonderful The Word for World is Forest.
To celebrate this work, The Folio Society have created a visually stunning illustrated edition. With a introduction by Becky Chambers and exquisite illustrations by David Lupton, this print is a wonderful tribute to such an important piece of literature. As with all the Folio Society's editions, there is a tremendous amount of thought gone into every aspect: the images used, the binding: bound in printed and blocked cloth, the type face: Poliphilus and the cover, also coming with a protective slipcase.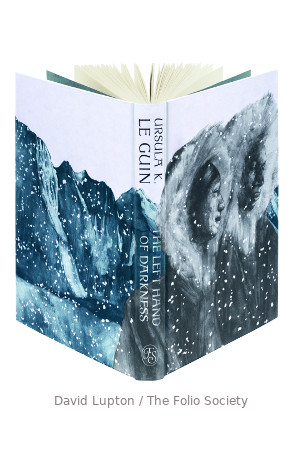 The introduction by Becky Chambers is thoughtful and touching:
This book changed me, in the sort of way that only books can do.  It's the catalyst that pushed me from being a fan of science fiction to wanting to write it myself."  And in her beautiful post script, written after Le Guin's passing, Chambers shares her struggle with the loss of this incredibly important author:   "Ursula K. Le Guin spent her life tending a vast garden of that fictional flame, warm and nourishing, bold and brilliant. it endures, even though its caretaker is gone.  All you need to do to keep it burning is to turn the page.
The story of The Left Hand of Darkness follows Genly Ai, a human envoy from Earth who travels to the icy, snowbound planet Gethen. On this harsh planet, we are introduced to a race who are androgynous, able to shift between genders. It's the job of Ai to recruit these people into an interplanetary collective known as Ekumen. This is complicated by the fact that Gethen society is split into two hostile nations: Karhide and Orgoreyn. Ai's arrival may just tip both sides into war. We join the story two years after Ai has landed on the planet and during this time has been trying to get his head around the differences between the Gethenians and Humanity. The Gethenians have also taken this time to trust someone who is so different to themselves and who speaks of ships that can fly through space.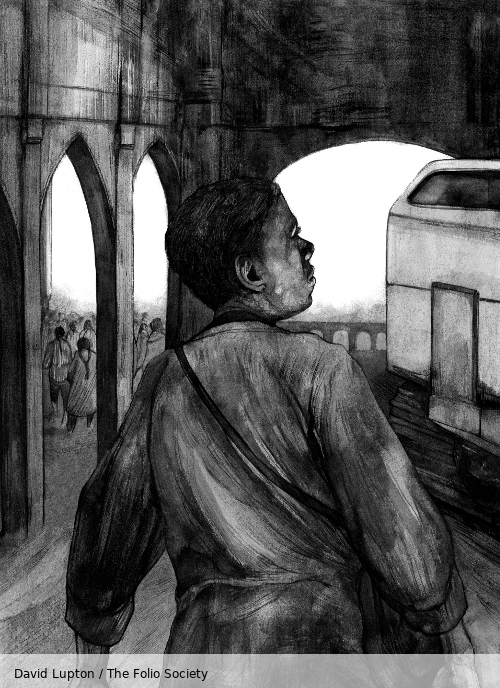 Given that this book was written half a century ago, it seems to have lost none of it's power. The Gethenians have a sexual cycle that means every month for five or six days they become male or female (a process known as "kemmer") at random, during which time they have sex. Ai has difficulty understanding this and is confused when confronted with men who act feminine (and vice versa), along with a society that lacks the duality of male and female. He also acts as a definition of gender prejudice at the time; that the broad definition of woman meant inferior both physically and intelectually. I'd like to say that 50 years later we've got past this, but it doesn't seem so quite yet. I think we have made progress, and science fiction itself has changed in part due to this very book. But even so, we've not got there yet, especially when the current "leader of the free world" seems to be sending equality and gender prejudice back at least 50 years.
Other than gender inequality, the future vision of humanity that Le Guin provides is more promising; issues of race being a thing of the past. At a time where most science fiction protagonists were white males (as were the readers) Genly Ai is black, a deliberate little bit of activism of the author. The way Le Guin introduces this fact is genius too, it isn't mentioned right away, but left until the reader has identified and engaged with the protagonist.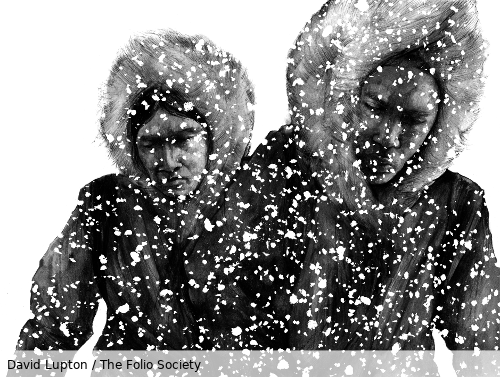 It isn't just a book about gender or race. Gethen is going through an ice age, which has shaped the culture as much as androgony has. Genly Ai forms a bond with Karhider Estraven and this developing relationship plays a large part of the story, as they haul a sledge across a vast glacier known as "Gobrin Ice". An examination of what makes someone a traitor plays a part, along with messages of trust and fear. The state fuelling anxiety in it's population about loosing power and that of national identity, while in reality it's the fear of change and more pressingly the fear of "different". Then there are themes on religion, politics and human nature.
With so much packed into just 288 pages it' not the easiest of books to read, there is just so much going on. It helps that the quality of the writing is nothing short of exceptional, but it is a book that demands your undivided attention.
It's worth it though, a thousand times it's worth it.
Written on 3rd October 2018 by Ant .
You may also like