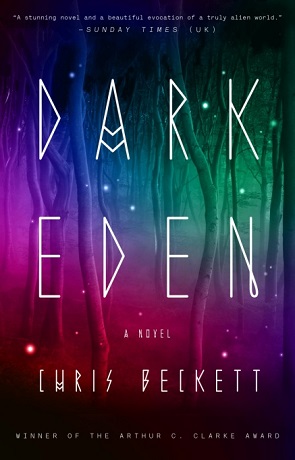 Book details
Dark Eden

Series:

Dark Eden Series

Publisher:

ISBN:

9781850000000

Published:

January 2012

Pages:

400

Format reviewed:

Hardback

Review date:

14/04/2014

Language:

English

Age Range:

13-
Books in the series
Awards won
About the author
This review was originally published in 2012 and has been re-published following the launch of the book in the US, published by Crown Publishing. I often start a review with a bit of blurb about the book itself, setting the scene for the reader and I try to never give too much away - limiting the information to no more than is provided on the blurb on the rear cover, simply re-written in my own words. There are however a few occasions where I find it difficult to re-write what has been said, or attempt to find anything more fitting. This is one of those times and so the following has been taken straight from the book, it sets the scene much more effectively than I could ever do:
You live in Eden. You are a member of the Family, one of 532 descendants of Angela and Tommy. You shelter beneath the light and warmth of the Forest's lantern trees, hunting woollybuck and harvesting tree candy. Beyond the forest lie the treeless mountains of the Snowy Dark and a cold so bitter and a night so profound that no man has ever crossed it. The Oldest among you recount legends of a world where light came from the sky, where men and women made boats that could cross between worlds. One day, the Oldest say, they will come back for you.
You live in Eden. You are a member of the Family, one of 532 descendants of two marooned explorers. You huddle, slowly starving, beneath the light and warmth of geothermal trees, confined to one barely habitable valley of a startlingly alien, sunless world. After 163 years and six generations of incestuous inbreeding, the Family is riddled with deformity and feeblemindedness. Your culture is a infantile stew of half-remembered fact and devolved ritual that stifles innovation and punishes independent thought.
You are John Redlantern. You will break the laws of Eden, shatter the Family and change history. You will be the first to abandon hope, the first to abandon the old ways, the first to kill another, the first to venture in to the Dark, and the first to discover the truth about Eden.
See what I mean? quite powerful stuff in my reckoning - and that is the very least of the story, in Dark Eden we are treated to an incredibly rich and complete world full of characters that come alive amidst the pages of the book, a lost people forced to survive on their own and isolated from any other humankind on a truly alien world, a society that has evolved from just two survivors of a space ship crash landing.
The narrative is written in the first person from a few different perspectives and as such is told in a post-human dialect that really draws you in to this little world and encourages you to think a bit more about what the characters are really saying. You can see that a huge amount of thought has gone into just how such a society could survive and it really does show, at no point was my sense of belief questioned.
The quality of the writing is superb while the authors' clear voice shines brightly from the pages. It's very much a literary work that uses the science fiction setting as a vehicle to explore the many ideas presented here. On the surface there is the human urge for survival, the devolutionary and self destructive effect that a limited gene-pool and incestuous in-breeding has, the evolution of language and the dangers of dogmatically sticking to ritual and tradition rather than thinking about how things could be done differently, or more effectively (amongst others). Look beneath the surface though and the author is commenting on society itself and how one dangerous idea can change the world, an allusion to the age old story of Eden and original sin; but reversed.
I loved how complete this book feels, the sense of immersion is excellent, in part due to the incredibly detailed and vivid alien world which is described in excellent yet very concise detail. There are many parallels to the plants and animals of Earth - or at least things that have been named for sharing some external similarities. Each and everyone are quite different, fitting neatly into this truly alien vista with geothermal trees that bring light and warmth to a planet that seems to be without a nearby star (or at least landlocked away from one) and animals that project their own source of light.
Dark Eden is an incredible novel, a literary tour-de-force that succeeds on every level, highly recommended.
Written on 14th April 2014 by Ant .
You may also like