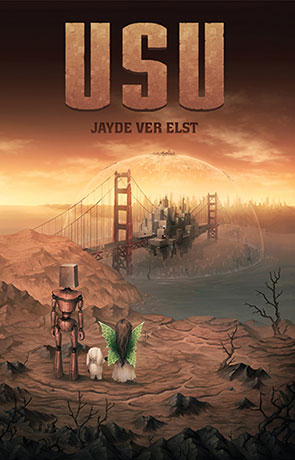 Book details
USU

Publisher:

ISBN:

B00V8A5K7Y

Published:

June 2015

Pages:

178

Format reviewed:

Paperback

Review date:

23/06/2015

Language:

English

Age Range:

N/A
USU is a clever, clever book. Set after some cataclysmic event has rendered the Earth free of it's human infestation, the novel follows the stuffed and robotically animated rabbit known as Usu. He searches the broken, twisted wasteland for something, something he will only know when he finds it. There are not many books that don't feature humans at least in some guise and even few that work as a result but USU does, magnificently.
It's a slim book, if you really wanted to you could probably read the whole thing in one sitting (if you are a fast reader that is). There is however not a single wasted space from beginning to end.
USU has one of the most unique writing styles I've seen, full of humour it manages to "break the fourth wall" without seeming contrite or annoying. It's a book that manages to speak directly to the reader without putting them off in the slightest and I'm struggling to remember the last time I read a book that managed this feat of linguistic loquacity.
So a book without the human race that doesn't take itself too seriously (think Douglas Adams humour) and manages a feat few others do. Then there is the interaction between the stuffed rabbit, his android friend Rain and the unusual Modbot.
It's crazy to think an adult story could work with a stuffed rabbit and an android who let face it, has more than short-circuits than a radio-shack — in a wasteland of post-apocalyptic earth. But it does. The characters are entirely endearing and the story is warm enough in places to defrost even the hardest of hearts.
I'm seriously impressed and hope that the author continues to write many more tales like this one. I'd challenge anyone not to laugh out loud at least once!
Written on 23rd June 2015 by Ant .
You may also like