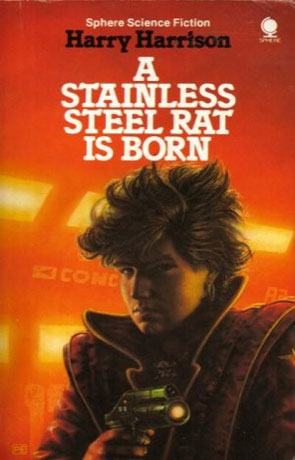 Book details
A Stainless Steel Rat Is Born

Series:

Stainless Steel Rat Series

Publisher:

ISBN:

Published:

Pages:

192

Format reviewed:

Paperback

Review date:

01/01/1999

Language:

English

Age Range:

N/A
Books in the series
The Stainless Steel Rat
The Stainless Steel Rat gets drafted
The Stainless Steel Rat Saves the World
About the author
A novel chronicling the beginning of the Stainless Steel Rat's career. Young Jim diGritz has only one abition in life, to become a master criminal. He intentionally gets caught trying to rob a bank so that he will go to jail where he can learn from the masters of crime, only to realize (too late) that the true masters would never get caught. And so begins the Stainless Steel Rat

That tale of how de Griz started his career. We follow de Griz as he tries to learn how to be a master criminal. Funny, witty and fast paced. As must read for fans of Harrisons humorous stuff.
Written on 1st January 1999 by TC .
You may also like