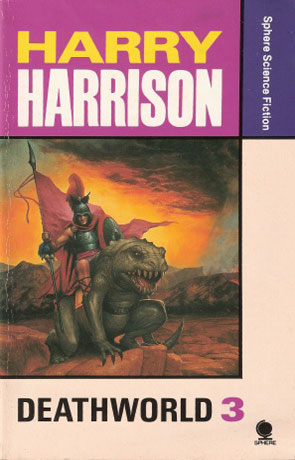 Book details
Deathworld 3

Series:

Deathworld Series

Publisher:

ISBN:

Published:

Pages:

157

Format reviewed:

Paperback

Review date:

01/08/1999

Language:

English

Age Range:

N/A
Books in the series
Deathworld 1
Deathworld 2
About the author
Another fun filled and action packed book from the man who has given us The Stainless Steal Rat and Bill the Galactic Hero. The Deathworld stories are much like these other two series, the main difference being that the Deathworld stories are a bit more bloody and a lot less humorous. Not that they aren't funny in places, but it's not the main focus of the book.

Jason delAnt and the Pyrrans (from Deathworld II) go to the planet felicity to start a mining colony. Unfortunately the locals have a problem with buildings more permanent than tents, oh yes, and they are armed to the teeth, very well organized, well lead and quite set on burning down any and buildings and kill the people who had the nerve to build them.
Written on 1st August 1999 by TC .
You may also like