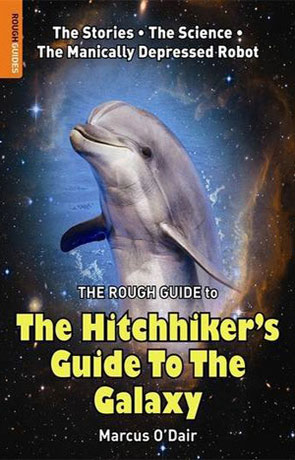 Book details
Rough Guide to the Hitchhikers guide to the galaxy

Series:

Hitchhikers Guide Series

Publisher:

ISBN:

Published:

October 2009

Pages:

288

Format reviewed:

Paperback

Review date:

01/10/2009

Language:

English

Age Range:

N/A
Books in the series
The Rough Guide to the Hitchhikers Guide to the Galaxy is the ultimate guide to the ultimate guide, written by Marcus O'Dair and published by the Rough Guides.

Don't Panic. The Rough Guide to The Hitchhiker's Guide to the Galaxy explores the ever-expanding universe created by Douglas Adams- the must-have companion for both long-term enthusiasts and those discovering the Hitchhiker's stories for the first time.

You'll find everything you need to know about the stories so far including the saga's numerous incarnations: books, TV show, movie, radio series and more. The guide covers key Hitchhiker's concepts and plot devices from tea, cricket and towels to small yellow fish and the stories behind all your favorite characters: Ford Prefect, Arthur Dent, Zaphod Beeblebox, Trisha McMillan and, of course, Marvin, the paranoid Android.

The guide features useful background on the life and times of Douglas Adams unveilling his influences and passions and an overview of his other works. Newcomers will find the guide packed with accessible information whilst committed fans will love the online resources section which includes the lowdown on the official fanclub, ZZ9 Plural Z Alpha.

You can really tell that Marcus is a big Hitchhikers fan, the level of detail in the book is fantastic. It is also clear just how much research has gone into creating this guide, it's jam packed full of the history of Douglas Adams and the Hitchhikers various series (radio, book, TV and film).

Well illustrated, the Rough Guide to the Hitchhikers Guide to the Galaxy is a must for any fans of the series, of Douglas Adams, or in fact anyone who loves a good read. Get it!.
Written on 1st October 2009 by Ant .
You may also like