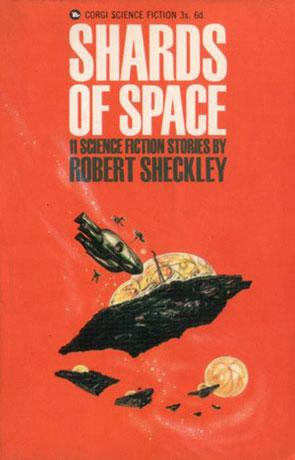 Book details
Shards of Space

Publisher:

ISBN:

Published:

1962

Pages:

152

Format reviewed:

Paperback

Review date:

01/10/2000

Language:

English

Age Range:

N/A
About the author
Shards of Space is a collection of short science fiction stories by Robert Sheckley.

Normally I make a short mention of each of the stories in short story collections, but there's has to be a limit. Shards of Space contains eleven stories and none of them are worth the time (my time) or space (this space) of going through the trouble of making a detailed analyses of their contents. I'll make a short mention of the story names and sizes, but before I do that I have to make a special mention, of Alone At Last for the surprise ending, and Forever for the idea that an inventor of an immortality drug, just have to be kidnapped by undertakers.

Stories: Prospector's Special (23 pages), The Girls and Nugent Miller (11 pages), Meeting of the Minds (30 pages), Potential (15 pages), Fool's Mate (13 pages), Subsistence Level (13 pages), The Slow Season (6 pages), Alone At Last (5 pages), Forever (9 pages), The Sweeper of Loray (136 pages) and The Speciel Exhibit (4 pages).

Get's the price as the most uninteresting collection, that I've read in years.
Written on 1st October 2000 by TC .
You may also like