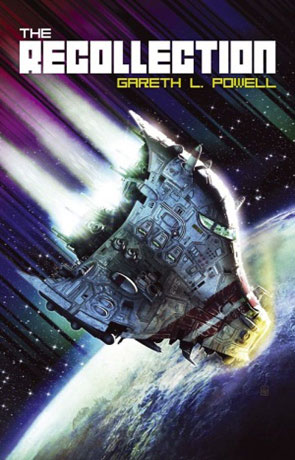 Book details
The Recollection

Publisher:

ISBN:

9781907519994

Published:

September 2011

Pages:

400

Format reviewed:

Paperback

Review date:

07/11/2011

Language:

English

Age Range:

N/A
About the author
Strange arches are appearing all over the world and the brother of failed artist Ed disappears through one that suddenly jumps into being at the bottom of a London Escalator. With no visible way back Ed must put aside his differences with his brother's wife and go find him.

Four hundred years into the future and space pilot Katherine Abdulov must travel to a remote part of the galaxy in order to regain the trust of her influential family. The only person standing in her way is her former lover, Victor Luciano, the ruthless employee of a rival trading firm.

Hard choices lie ahead as lives and centuries clash and, in the unforgiving depths of space, an ancient evil stirs...

An incredible vision, astounding is the word, if you've ever read Eon by Greg Bear then you will understand when I say that I got the same mind blowing feeling at the end of this book than I did that classic epic. The similarities end there though, The Recollection has a much faster pace and tighter dialogue than Bears classic (and that is a damn fine compliment).

The story itself is split into two arcs, the journey of Ed and Alice as they travel through the Arcs and that of Kat and her rival Victor as they fight to get to the priceless cargo first. Using characters from our own time gives us something to relate to, which is also an effective counterpoint to the future space pilots of Kat and Victor.

One of the things that really impressed me with this novel was the details that create a rich future vision, there are some brilliant ideas here like the way that Kat is linked to her ship "personality" (AI wouldn't do it justice) and then there is the massive hub (although I won't give any more away, you need to read it). When combined with the mysterious aliens, planet sized diamond artifact and some very creepy evil bad guys (which are a little like a cross between the Borg and Replicants) it all adds up to a vividly realised vision.

The story is utterly engaging and the pace relentless, it took me just a few hours to read the whole book and if that pesky sleep thing hadn't got in the way I would have read it in one sitting too. There is also a great little incidental touch which shows a page of news bulletins that are based on the star system the characters are currently travelling in before each chapter begins.

The Recollection is a seriously impressive novel, any fan of space opera or even just science fiction will love this book, here Gareth L Powell joins the ranks of Reynolds, Banks, Hamilton and others at the forefront of science fiction.
Written on 7th November 2011 by Ant .
You may also like