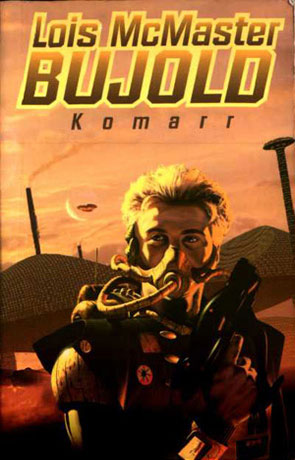 Book details
Komarr

Series:

Vorkosigan Saga

Publisher:

ISBN:

Published:

1998

Pages:

320

Format reviewed:

Paperback

Review date:

01/12/2000

Language:

English

Age Range:

N/A
Books in the series
About the author
Komarr is a novel in the Miles Vorkosigan Adventures series by Lois McMaster Bujold.

Probably the strongest book yet in the continuing saga of Miles Vorkosigan. Bujold has moved a step beyond her usual "let's keep it simple and stick to Miles' point-of-view" for this story and is letting one of the other character do some of the story telling for once. It gives her a chance to tell a story that gets far more complicated and interesting than the usual stuff she (not that the other Vorkosigan stories are uninteresting, but this is a lot better).

Miles has been send to Komarr to investigate an incident where a freighter has crashed in to an orbital solar mirror. Terrorism or accident? It looks like an accident, but we all know that for the story to really pick up speed, it has to be something more. Miles is going to need all the backing his new title as imperial Auditor can give him.

Another difference in this book compared to the other Vorkosigan adventures is that is not as stand alone as the other books. Most of the other books require nearly no previous knowledge of "Vorkosigan lore", and you could probably read and enjoy this one with out any, but I found a lot more links and references to the other books in this one than in any of the other books. Try to at least find and read Memory before you read this one, as Komarr takes place right after Memory. Oh, I just checked my review of Memory and I actually finish it by recommending that you read something else before you read that one. Hm, Oh, now I know it! Read them all! Take it from the top....
Written on 1st December 2000 by TC .
You may also like