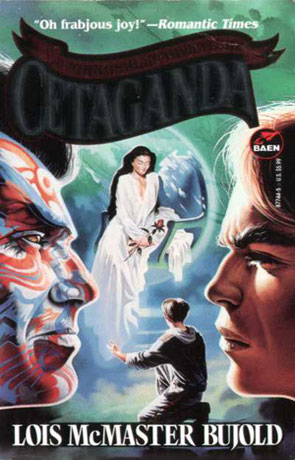 Book details
Cetaganda

Series:

Vorkosigan Saga

Publisher:

ISBN:

Published:

Pages:

352

Format reviewed:

Paperback

Review date:

01/12/1999

Language:

English

Age Range:

N/A
Books in the series
About the author
Cetaganda is a science fiction novel in the Miles Vorkosigan Adventures series by Lois McMaster Bujold.

This time Miles go to Cetaganda to attend the funeral of the Empress and ends up in a lot of trouble (now where have I heard that before?). The Cetagandan empire is build on a power division between the Haut-Lords and the Haut-Ladies and through strange circumstances Miles ends up with the key to this power struggle.

Cetaganda is as well written and as action packed as any of the other Vorkosigan adventures written by McMaster. Nothing more and nothing less (not a bad thing), but go somewhere else if you are looking for substance.
Written on 1st December 1999 by TC .
You may also like