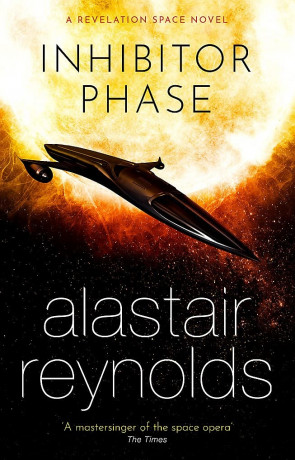 Book details
Inhibitor Phase

Series:

Revelation Space

Publisher:

ISBN:

9780575090750

Published:

August 2021

Pages:

454

Format reviewed:

Hardback

Review date:

31/08/2021

Language:

English
Books in the series
Chasm City
Redemption Ark
Absolution Gap
About the author
When I talk to readers who do not like Science Fiction, I have found they say their minds just cannot get around the fantastical nature of the ideas contained within. They cannot understand sentient spaceships or aliens that think differently to ourselves. I try to point out that the genre is a vast one that contains speculative fiction that is close to our own world and is not just meaty space operas. Then I read something like Inhibitor Space by Alastair Reynolds, and I feel sorry for them. There is a place for space-based science fiction with lofty ideas, that space is great, and that space is in this book.
Miguel de Ruyter is the leader of a small group of humans hiding out on a remote outpost. The vast majority of our race has been exterminated by the powerful 'wolves' who still track down and kill any humans they find. Miguel's energies go into supporting the 5000 lives under his care. When a survivor called Glass is recovered it will change the direction of Miguel's life as it seems he once had another life, one that he needs to remember if humans are ever going to fight back against the 'wolves.'
Inhibitor is the latest in Reynolds' Revelation Space universe but acts as a standalone novel. The author says that it can be read in its own right, and I am a great guinea pig for that theory as I have not read any other books in the series. I can attest that it works independently as a book. It surrounds the character of Miguel who is given his own arc. Any baggage is added on the way as the story progresses. It did feel at times that the reader was meeting some old friends from previous books, but these sections were written in such a way that as a newbie you enjoyed them, but a familiar reader could glean even more depth.
The story of Inhibitor covers vast areas of space and also time as we learn from flashbacks and the words of others of who Miguel once was. It can be easy to lose a sense of character when you are dealing with large concepts, but Reynolds balances character development and great science fiction concepts well. Without the situation that Miguel finds himself forced into, there would be no sense of urgency in the book and all the set pieces and sentient spacecraft would just feel empty. Thankfully, they feel filled with characters that you can care about.
The central relationship between Miguel and Glass is the key. It develops through the book is pivotal to how events unfold. The way it evolves is just one of the great chunky ideas in the book that fans of thoughtful sci fi will love. There are seas that house sentient collectives who act as type of organic computer, prisons full of desperate people turning to cannibalism, and sentient space craft that can be bargained with if spoken to in the right way. These are the type of ideas why many of us love the genre and Reynolds excels at providing them in a way that is both intelligent and approachable.
Inhibitor Phase is a book that gives the space opera a good name. It shuns some of the complexities of the genre by concentrating on one character. What it does not skimp on is the intelligent ideas and action that are also staples of the genre. For a book that cover vast areas of space it is surprisingly welcoming and easy to read. It is a science fiction book that fans of the genre will enjoy but will also not put off people new to it.
You may also like