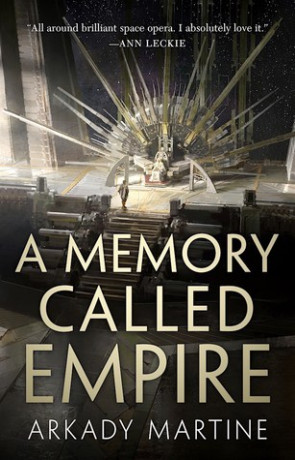 Book details
A Memory Called Empire

Publisher:

ISBN:

978-1529001570

Published:

April 2019

Pages:

464

Format reviewed:

Hardback

Review date:

20/05/2019

Language:

English
A Memory called Empire is the debut of Arkady Martine, although reading the book you'd be forgiven for thinking she's been writing best-sellers for years.
The vast, interstellar Empire of the Teixcalaanli have appointed Mahit Dzmare as new Ambassador to the capital. When she arrives she realises that her predecessor was murdered, but no-one wants to admit it wasn't an accidental death. Mahit is from a small colony, a fiercely independent mining station that is due to be annexed by the Teixcalaanli Empire. Not only must Mahit find the killer - fearing she is next on the list, but she must try and prevent the unique cultural identity of her home becoming washed away by Empire.
Cultural identity is one of the main themes of running through the book as Mahit tries to deal with the juxtaposition between her small "backwater" mining colony and the overwhelming vast and complex society of the Teixcalaanli. Mahit juggles to be seen as "civilised" and not a "babarian" while still trying to cling to her origins. This journey is made more difficult as she inherits the memories of her predecessor using an advanced form of mind-meld using a device known as an "imago-machine". The world-building behind the story is incredible, as deep as Dune and as complex immersive as an Iain Banks journey. It's a fascinating insight into a unique culture and the author manages to create a world that is almost tactile. It draws you in with it's charms and doesn't let go. The characters populating this world are equally fascinating - not least Mahit's aide "Three Seagrass" whose dry, sarcastic wit is one of the highlights of the book. I found it easy to bond with the character of Mahit. She's smart and given her "barbarian" heritage is under-estimated, refusing to be pigeon-holed.
Other characters of note include "Nineteen Adze" who manages to be both ruthless and soft in equal measures while "Six Direction" is just plain fearsome.
The story is entwined around the world-building and while on the surface A Memory called Empire is a space opera, it's really a murder-mystery - just one that happens to be encapsulsated within an intricate and detailed science fiction setting.
A Memory called Empire is thoughtful look at cultural identity and colonization, just as important though it's a rich and vibrant science fiction story that hits all the right notes.
Written on 20th May 2019 by Ant .
You may also like