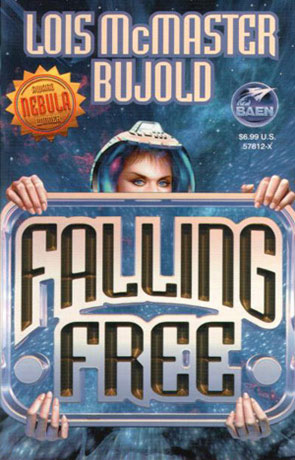 Book details
Falling Free

Series:

Vorkosigan Saga

Publisher:

ISBN:

Published:

1988

Pages:

320

Format reviewed:

Paperback

Review date:

01/09/1999

Language:

English

Age Range:

N/A
Books in the series
About the author
Falling Free is a science fiction novel by the award winning American author Lois McMaster Bujold and takes place within the Vorkosigan Saga.

Taking place in the same universe as the Vorkosigan adventures, but not featuring any of our beloved characters, for the simple reason that Falling Free takes place a couple of hundred years before the birth of Miles Vorkosigan. Leo Graf gets the job teaching some Quaddies space welding and construction. Quaddies are gen-modified humans adopted to free fall, getting their name from the fact that their legs has been replaced with arms – giving them four of them. The only problem is that the Quaddies are not treated as humans – they are property of the GalacTech Corporation, so much machine parts and nothing more.

Not the greatest book from Bujolds hands, but in it's own way it's quite interesting, besides its engineer turned hero aspects, it's quite funny noting how much our perspective on gen-engineering has changed since this book was written (in 1988). Not that Bujold has done anything obviously wrong, it's just that her approach to the morality of the subject is a bit clumsy – or maybe heavy handed is a better phrase.
Written on 1st September 1999 by TC .
You may also like