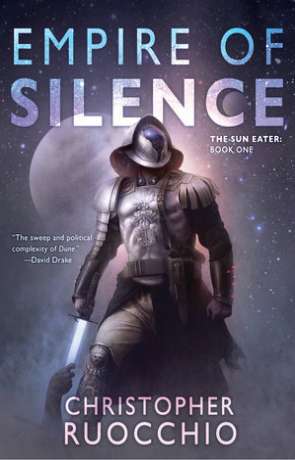 Book details
Empire of Silence

Author:

Christopher Ruocchio

Publisher:

ISBN:

978-1473224278

Published:

July 2018

Pages:

624

Format reviewed:

Paperback

Review date:

20/07/2018

Language:

English
Empire of Silence is the debut of Christopher Ruocchio and the first in the Sun Eater series. It describes the early life of Hadrian Marlowe, an infamous figure who is remembered galaxy-wide as both hero and monster. The man who burned every last alien Cielcin from the sky. The man who destroyed a sun, and with it four billion human lives, including the emperor himself.
The reality however is somewhat different. Hadrian was not a hero, or a monster. He was not even a soldier. He was just on the wrong planet at the wrong time, fleeing his father Lord Alistair and a career as head of House Marlowe and Archon of Meidua Prefecture on Delos.
His flight found him living as a gladiator before fighting in a war he didn't start for an Empire he doesn't like against an enemy he can never possibly understand.
Empire of Silence is a promising debut. The world building is imaginative and credible - the scale vast. Against this we have the personal story of Hadrian and how he finds himself wrapped up in spiralling events outside of his control, from his fall from grace to his survival in a universe that seems out to get him. The quality of the writing is great, fluid and lavish with a well paced, clever and thoughful plot.
It's a big book at 624 pages but it doesn't feel that long. The story is epic in all senses of the word with an incredible sense of scale. Comparisons to the series Dune are inevitable (and not without merit) - although to me it feels closer to Gene Wolfe's epic The Book of the New Sun series. Like those series, the author manages to combine high tech with that of medieval fantasy without it feeling out of place.
I loved the portrayal of the Cielcin, an enemy who are described as little more than savage animals. As you might imagine, the reality is far removed from this depiction, instead being a complicated, intelligent race who want nothing more than peace after centuries of war against humanity.
I really enjoyed Empire of Silence, it's enticing, rewarding fiction with a  tangiable power about it, a future classic and an astonishing debut novel.
Written on 20th July 2018 by Ant .
You may also like