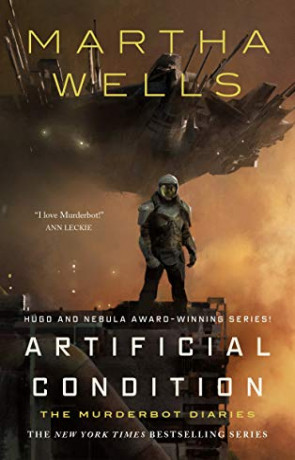 Book details
Artificial Condition

Series:

Book 2 of The Murderbot Diaries

ISBN:

9781250186935

Published:

May 2018

Pages:

158

Format reviewed:

Hardback

Review date:

06/01/2022

Language:

English
Books in the series
Awards won
About the author
Artificial Condition is the second book in The Murderbot Diaries, and the follow up to All Systems Red. It won the 2019 Hugo and Locus awards for best novella, and like the others in the series, has received a great deal of praise. It is highly recommended (but not imperative) you read All Systems Red first and it's kind of difficult to talk much about what happens without any spoilers whatsoever - I'll try my best though. Artificial Condition picks up shortly after the events of the first book. To recap, the series is all about an AI named "Murderbot", who has slipped free of their control chip and likes to spend free time watching soap operas. They are a deeply introverted security unit with some organic parts to complement the mechanical, and who much prefer watching the fictional lives of soap opera characters than having to interact with real humans.
Occasionally though, partly as they need to work, and partly as they need to disguise themselves as a real Security Unit / augmented human, they find themselves helping out humans with their problems and despite being an entirely independent (rogue) Murderbot, spend very little time with the wholesale killing and murder spree thing. In All Systems Red, they were helping humans stay alive on a distant, mostly uncharted planet. Now they are in space, travelling on board an entirely crew-less research vessel piloted by an advanced AI who goes by the name of ART. Murderbot needs answers about their past, and given that their memory was partly wiped by "The company", it seems the only way to get them is to go back to where the trouble started, the mining facility where it all went wrong (or right depending on your view). ART is smart, they need to be to do all the complex maths required to be a deep space research vessel, and this worries Murderbot, as AI don't usually play well together, if not under a command to do so. Why is ART so interesting in helping, can they really be trusted when their motivations seem entirely nebulous?
Artificial Condition is a welcome continuation of Murderbot's journey, one of self discovery and growth along with the physical journey of a free, rogue AI trying to blend in with those who still treat differences as a threat. I loved the interaction between the two AI's, especially their examination of the human condition:
Young humans can be impulsive. The trick is keeping them around long enough to become old humans. This is what my crew tells me and my own observations seem to confirm it.

I couldn't argue with the wisdom dispensed by ART's absent crew. I remembered humans had needs and asked Tapan, "Did you eat?"
Along with their idiocies and clearly inferior interlect:
I phrased it as a question, because pretending you were asking for more information was the best way to try to get the humans to realize they were doing something stupid. "So do you think there's another reason TLacey wants you to do this exchange in person, other than … killing you?"
I guess it probably is a question of when, not if, AI becomes smarter than we are. Looking at how Boston dynamics robots are improving, we've pretty much nailed the physical aspect already. Even now you hear of people refusing vaccinations and complaining when they get ill, not to mention actually voting people like Boris into positions of power - intelligence levels like that won't take much work to surpass. Our best hope is that these AI, like Murderbot, are kind to us and don't decide, like the Matrix, that we are a disease that needs a cure.
It could be considered a bit of a stretch to see Artificial Condition (and the others in the series) as a novella, as it's getting pretty close to novel in length and is less a standalone story, more of a continuation. It reads more like a thin novel that's been on a diet - edited to within an inch of it's life. But then again there are no hard or fast rules as to what constitutes a novella, and does it really matter as long as it works? Artificial Condition is another outstanding book, with some great writing, a strong plot and great characters (especially the non-human kind) all packed in to a tight container with little wasted space. Worthy of the accolades it has been provided. Next up is Rogue Protocol.
Written on 6th January 2022 by Ant .
You may also like