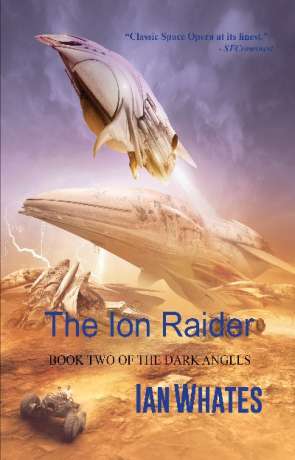 Book details
The Ion Raider

Series:

The Dark Angels

Publisher:

ISBN:

978-1910935385

Published:

May 2017

Pages:

242

Format reviewed:

Paperback

Review date:

18/06/2017

Language:

English
Books in the series
About the author
The Ion Raiders is book two of Ian Whate's Dark Angels series, however despite featuring some if the same characters as book one, Pelquin's Comet, it is not a direct continuation of the same story so can be read without knowledge of the first.  Not to give to many spoilers, but the story does continue into the next novel making book three high on my 'need to read' list. 
Whates uses the wider description of the first scene to sharpen the readers focus into the action and hooking our attention right from the start.  This is very clever storytelling and the changes of pace in the novel as a whole keep the reader engaged throughout. 
The story unfolds as some of the members of the crew of the titular Ion Raider come together to defend themselves from what appears to be a shadowy underground group hunting them down and killing them.  The so called 'Dark Angels' have a choice, come back together or die. Of course it's not that simple, as they find out to their cost.  Long term association is not the same as friendship.
The  novel has a light accessible tone, but that does not stop it exploring issues relating to religion and xenophobia.  We see a religious group who are vulnerable to the manipulations of both humans and non-humans who seek to use them for their deadly purposes.  The parallels to real world political situations are not hard to find.  The idea that maybe people with good intentions are being manipulated add shades of grey to what could become a clear cut good versus evil struggle. 
There is a real theme of friendship and loyalty that goes through the novel, some of the characters have not seen each other for years, but the relationships between them are still strong.  It does however make the characters reflect on how they have changed in the time apart.   The question of whether you can go back to who you were and whether you would want to is one the reader can relate to, even if our experience does not involve the use of unknown alien technology.  This introspection adds depth to the characters, but is not dwelt on so long to slow the pace of the story. 
The non humans in the story are intriguing, the ever present Mudball and references to the Elders who appear to be the source of some of the unusual technology.  However the alien items are often found with a Guardian,  a normally agressive alien being.  Much of the technology is only aquired after the Guardian is killed, raising the ethical question about retrieving the items. 
Overall the novel is a beautifully written story that draws the reader in, to relate to and care about the crew and where this situation will lead them to.  It is an excellent addition to Newcon Press' titles and I am looking forward to book three. 
You may also like