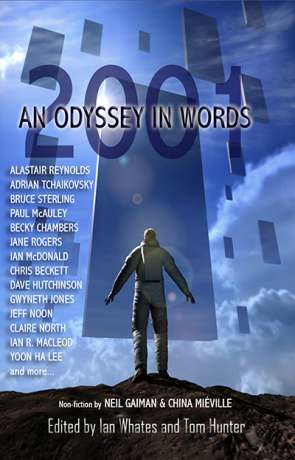 Book details
2001 an odyssey in words

Publisher:

ISBN:

978-1910935767

Published:

July 2018

Pages:

202

Format reviewed:

Paperback

Review date:

02/01/2019

Language:

English
About the author
2001: An Odyssey in words is a collection of twenty-seven stories, all exactly 2001 words in length and written to honour the late, great author Arthur C Clarke. The anthology is a collaboration between The Arthur C. Clarke Award and NewCon Press which began life as a kickstarter project, exceeding it's target goal in just over a month (SFBook was one such backer).
Those contributing include some of the biggest names writing science fiction today - ten of whom have won the Arthur C Clarke award. Those include our very own reviewer, author and all-round clever bod Allen Stroud.
The collection has been edited by the Director of the Arthur C Clarke Award - Tom Hunter and owner of NewCon Press - Ian Whates Ian has also kindly written a thoughtful introduction to the anthology. It's a wonderfully diverse collection of stories (along with three non-fiction articles) and feels like a rat-pack of 21st century science fiction authors - it's a serious roster of some of the finest writers today. Each story adds something unique to the collection and there isn't a single weak entry.
Fiction:
Golgotha - Dave Hutchinson
The Monoliths of Mars - Paul McAuley
Murmuration - Jane Rogers
Ouroboros - Ian R. MacLeod
The Escape Hatch - Matthew De Abaitua
Childhood's Friend - Rachel Pollack
Takes from the White Hart - Bruce Sterling
Your Death, Your Way, 100% Satisfaction Guaranteed! - Emma Newman
Distraction - Gwyneth Jones
Dancers - Allen Stroud
Entropy War - Yoon Ha Lee
The Ontologist - Liz Williams
Waiting in the Sky - Tom Hunter
The Collectors - Adrian Tchaikovsky
I Saw Three Ships - Phillip Mann
Before They Left - Colin Greenland
Drawn From the Eye - Jeff Noon
Roads of Silver, Paths of Gold - Emmi Itäranta
The Fugue - Stephanie Holman
Memories of a Table - Chris Beckett
Child of Ours - Claire North
Would-Be A.I., Tell Us a Tale! #241: Sell 'em Back in Time! by Hali Hallison - Ian Watson
Last Contact - Becky Chambers
The Final Fable - Ian Whates
Ten Landscapes of Nili Fossae - Ian McDonald
Child - Adam Roberts
Providence - Alastair Reynolds
Non-fiction:
2001: A Space Prosthesis – The Extensions of Man – Andrew M. Butler
On Judging The Clarke Award – Neil Gaiman
Once More on the 3rd Law – China Miéville
Written on 2nd January 2019 by Ant .
You may also like