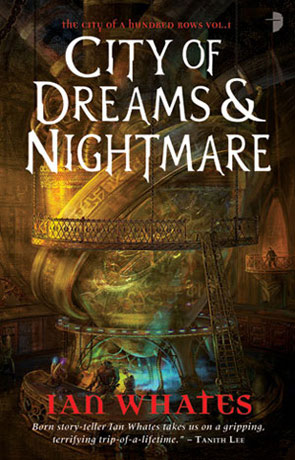 Book details
City of Dreams & Nightmare

Publisher:

ISBN:

Published:

March 2010

Pages:

464

Format reviewed:

Paperback

Review date:

18/03/2010

Language:

English

Age Range:

N/A
About the author
City of Dreams & Nightmare is the debut novel from Ian Whates and published by Angry Robot Books. The first in a new series of novels, the story is set against the vertical city of Thaiburley.

Thaiburley, known as the "City of a Hundred Rows" is an incredible creation of towering majestic heights and dangerous murky depths with the elite of society enjoying the luxury (with the very highest levels thought to be the haunts of demons) while the depths of the tower are home to the poor, largely controlled by gangs of youths known as street-nicks.

Tom is a young street-nick who agrees to try and steal a demon egg to impress a girl he likes, and gain face in his clan. Tom isn't any ordinary street-nick though, he has the unique ability to be able to hide from anyone he chooses, just by concentrating. It is with this ability that he manages to scale the heights of the city, and while there he witnesses a murder perpetrated by one of the city council members, who is also a mage.

So shocked that he manages to get seen by the murderer, accused of the murder Tom flees to the lower cities but is pursued by both the authorities and a deadly assassin.

City of Dreams & Nightmare is a fantasy adventure which manages to seemlessly combine some elements of science fiction within the fantasy world, and the story is set completely within the realms of the city Thailburley. The novel manages to grab your attention from the very start with a sense of style that marks Ian Whates as a true Story Teller, it's so easy and enjoyable to read that you can quickly become transfixed.

There is such a great deal to recommend about this book from the imaginative elements like the cyborg type creatures and common use of magic and the incidental touches that Ian describes, to the strange city with it's myriad levels and unusual inhabitants. There is also a real sense of a living, breathing city with insights into the various ways Thaiburley works.

The pace of the book is just right and the plot manages to weave around and keeping you on your toes. The principal characters are instantly likeable with distinct personalities and a good sense of depth while the antagonists are portrayed with both style and wit.

City of Dreams & Nightmare is a brilliantly executed novel, perfectly paced, beautifully described and a true joy to read.
Written on 18th March 2010 by Ant .
You may also like