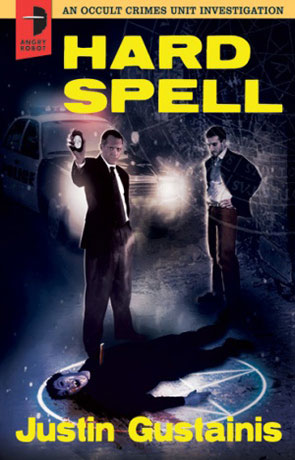 Book details
Hard Spell

Publisher:

ISBN:

9780857661142

Published:

July 2011

Pages:

416

Format reviewed:

Paperback

Review date:

24/06/2011

Language:

English

Age Range:

N/A
Set in an alternative world where the supernatural have the same rights as we do, Hard Spell is an urban fantasy novel by Justin Gustainis and follows the adventures of Stan Markowski, a detective of the Scranton PD's Occult Crimes Unit. The "Supe" unit handles any crimes that have a supernatural element to them, from a witch casting the wrong kind of spell to a vamp ordering the wrong kind of take-out.

Another book published by Angry Robot Books and I really don't know how those guys manage to find such a range of talented authors, I still have yet to read an Angry Robot Book I didn't like and it's one of the few publishers I would quite happily pick up a book just based on the fact that it was published by them. The more of their books I read the more I begin to understand the distinct character that they look for and exceptional quality they demand. Hard Spell is no exception.

The story is narrated in the first person by the protagonist and it feels very much like a detective novel combined with a TV police show and then mixed together with a very intelligent urban fantasy where Vampires and Werewolves haunt the night along with Witches, Wizards and other creatures of supernatural origin. The quality of the prose is superb and it really feels like the narrator is talking to you personally, a great feeling and one that connects you intimately with the book.

The plot is both engaging and witty, there is a more serious edge than many of the urban fantasy detective novel's I have read but it also manages to poke fun at itself when needed which helps capture the readers attention and suspend any disbelief. The interplay between characters is also lively and in many respects it feels like you are right in the middle of a cop show, only with Vampires and other supernatural creatures.

I loved the style of the author, his voice is both audible and rich with sharp dialog and an energetic pace. There is no space wasted here at all and little time given to introspection or exposition. As a result the plot bounds along faster than Usain Bolt being chased by a rottweiler. It doesn't pull any punches either and put's the protagonists through seven levels of Hell before the story plays out to the powerful and rewarding ending.

I am actually struggling to find words to describe the book without a) giving too much away (which I don't like to do) and b) Sound too gushing with my praise but simply put it's an exemplary example of an urban fantasy story and I can't wait to read more in the series.

There is even a video trailer for the book which should wet your appetite:


Written on 24th June 2011 by Ant .
You may also like