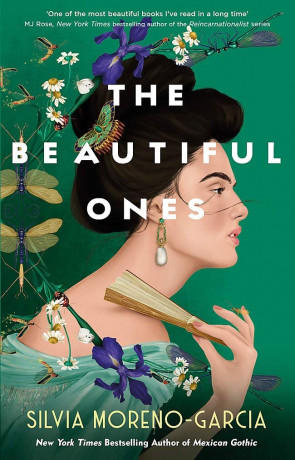 Book details
The Beautiful Ones

Author:

Silvia Moreno-Garcia

Publisher:

ISBN:

9781529416121

Published:

April 2021

Pages:

320

Format reviewed:

E-Book

Review date:

27/04/2021

Language:

English
About the author
Fantasy does not have to be one set thing and as the years progress, I find fantasy books that have moved away from just being magical creatures going out on a quest far more interesting. The Beautiful Ones by Silvia Moreno-Garcia has the lightest of fantasy touches and uses the genre as a way of adding magical realism to a version of our own past. Have you ever wanted to read something like Bridgerton, but with characters who can move objects with minds?
Nina has travelled to the city Loisail for her first Spring season, and it is expected that she will meet a man. To chaperone her is Cousin Valerie, one of the Beautiful Ones who knows all the rules for society life. Her skills are required as not only does Nina have a lot of country about her, but she also has the Talent to move objects with her mind. This is considered a common trait to have, and it is not helped when Nina takes a shine to Hector, a leading performer of the telekinesis arts. One final spanner in the works … Hector has spent a decade pining for Valerie and plans to win her back.
Beautiful Ones has all the manners of a Regency Romance, but with added magic. By adding fantasy elements Moreno-Garcia has freed the novel from any restraints you would have from history intervening. This is a time and place that feels familiar to the reader but in fact has its own rules. The Talents in the book are not front and centre, but act to make Nina even more different and Hector more compelling. The book would work without their shared powers, but the magic adds a sense of poetry that highlights Moreno-Garcia's excellent writing even more.
Having read a few of the author's novels in recent years, I cannot think of anyone currently writing characters as well. A book that centres around a love triangle and the restraint of polite society is not something that would normally appeal to me. I am more of a spaceship and laser gun type of person. However, Moreno-Garcia writes such compelling characters that you are drawn in. This does not take chapters to grip, but mere paragraphs. This is a fantastic skill to have and one that I have witnessed in all their books so far.
As well as having interesting individuals, the relationship between the main three characters is electric. The power dynamic between the three shifts through the book and we are given a glimpse into how all three are thinking. Even the least sympathetic character, Valerie, is fleshed out enough so that you understand her motivations. Like with any romance you hope that it ends well, but there is a sense of suspense that means anything could happen.
With its central love triangle in many ways Beautiful Ones feels like a classic novel. It does not try to deviate too far from the costume dramas that you have read or watched on TV, but it does have a couple of extra things going for it. The Talents within the book add mystery and romance, differentiating the book. The other element is Moreno-Garcia's exceptional writing. This is an author who can draw me in within mere sentences and have me loving a book based in a style I would not normally think to read. There are great genre books that appeal to genre fans and great genre books that break out and appeal to all. Beautiful Ones is the latter and has even made an old cynic like me enjoying a book about romance and magic.
You may also like