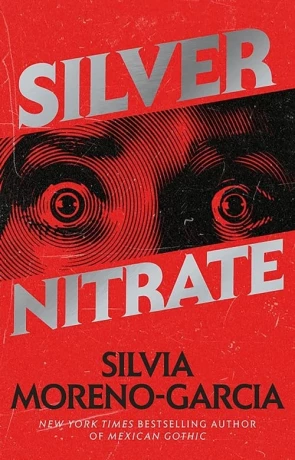 Book details
Silver Nitrate

Author:

Silvia Moreno-Garcia

ISBN:

9780593355367

Published:

July 2023

Pages:

315

Format reviewed:

Hardback

Review date:

18/07/2023

Language:

English
About the author
There is something magical about the silver screen. I enjoy watching films at home, but I love going to the cinema. A group of people in a dark room with a large screen and superior sound. I feel like I am immersed in the film, it draws me in, there is a power. But what if that power was real? What better way to cast a spell than through the medium of film on no less than Silver Nitrate film stock. Silvia Moreno-Garcia returns with another urban fantasy that blends a sense of real history with an edge of magical realism.
Montserrat is one of the most talented sound engineers in Mexico City, but a combination of dwindling local film industry and the old boys club means that she is getting less work. When her actor friend introduces her to a Golden Era director fallen on tough times, Montserrat sees a way of making some money. All Montserrat needs to do to get an exclusive interview is to help dub the director's last unfinished project. A film that may be cursed with the magic of a Nazi occultist.
Moreno-Garcia is an author who is always adept at creating a sense of time and place. Early 90s Mexico City would not be the most obvious place to set a book about sound design, but it makes sense. Mexican cinema was on the slide and the work was increasingly harder to get, cheaper and of a lower quality. It gives a sense of the dark and dubious world of 50s crime noir. Montserrat the downtrodden investigator doing jobs just to get by with an ill sister to think about and an old friend, Tristan, who she has an unhealthy relationship with.
It is a book that burns slowly. As a reader you get to enjoy learning a little about the film industry of the time and 90s life. This is not the glamour of Hollywood, but the smoky and dirty session rooms of Mexico City. For the first third, the book is straight historic fiction, and this will be enough for many readers. The relationship between Montserrat and Tristan is enough to engage the reader, but there is more.
There is a secret to Tristan's past that will come back to haunt him, and Montserrat incessant nature means that she will get into trouble. When investigating the origins of the missing film, Montserrat learns more; the curse, the occult, the Nazism. If that was not dangerous enough, the threats come to the present when someone is brutally murdered. Any sensible person would back away, but Montserrat is not sensible and that is what makes her such a compelling character.
Silver slowly builds into something else. Is there a curse? Are the visions that Montserrat and Tristan start to see nothing more than suggestions or has the strange book of spells they found something to do with it. The book becomes a form of ghost story noir, using the tools of a great crime noir in the ghost genre. There are elements of detection, as the book nears its conclusion, we see that Mexico City in the 1990s had more mystery and magic to it than you would imagine.
With a slow pace to begin with, Silver fits nicely in with Moreno-Garcia other work, as not all is what it seems. Mexican Gothic's twisted conclusion comes to mind, but the book that most closely resembles Silver is Moreno-Garcia's first work Signal to Noise. The use of the recent past and magic means that the two books have similarities, but the author's work as matured and so have the characters. Montserrat and Tristan are older, more broken and their fate more twisted.
You may also like