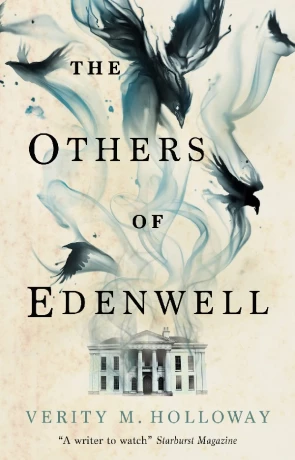 Book details
The Others of Edenwell

Author:

Verity M Holloway

ISBN:

9781803363950

Published:

July 2023

Pages:

448

Format reviewed:

Paperback

Review date:

30/08/2023

Language:

English
Societies' relationship with death has changed through the ages. With developments in healthcare and longer lifespans the modern world seems to want to forget that death exists, you are dropped into a lonely pit of grief while others continue to live around you. Good health was not always easy and until recently death was ever present, large families were designed to cover child fatalities. In a time of war death is even closer. World War One saw many young men travel to mainland Europe never to return. People felt closer to death and closer to the beyond. In Verity M Holloway's The Others of Edenwell this beyond may just be merging with the real in a sleepy retreat in rural Norfolk.
Edenwell was a popular retreat for those looking to decompress and enjoy the natural spring waters, but by 1917 the war has been raging for years and the clientele have reduced. Half the estate has been closed off and many of the staff let go. More disturbed patients have been brought in to make ends meet and now invalid soldiers. None of the patients seem to be aware of what is in the nearby woods, an entity that thrives on causing problems, causing chaos, and even causing death.
Set during the time of the Great War, Edenwell has that ethereal feel of ghost stories told during that time. When so many people are thinking about death, it feels that the other side if not far away. Groundkeeper Freddie feels like he has a closer link with the nearby woods and can sense something is wrong. Over a few weeks he will meet new friends and foes who will believe him or not. As the book progresses, those that are in denial will see the folly of their ways.
This is a story of unease and the supernatural, but that is in the background. Instead, this is a period piece about a group of characters in a particular place. Edenwell itself feels like a character, an aging building on its last legs, it has seen so many things. We are introduced to Eustace and his sister who bring a sense of the outside world to the remote retreat. The relationship between Eustace and Charlie is key to how the book works out and gives it life.
Is Edenwell horrific or scary? Not so much, it is more intriguing and unsettling. There is a central mystery that requires solving and not all things that go bump in the night are of a supernatural origin. Fans of a classic feeling ghost story will get a lot from this book as it has that period feel, but still has a dark modern edge to it.
You may also like