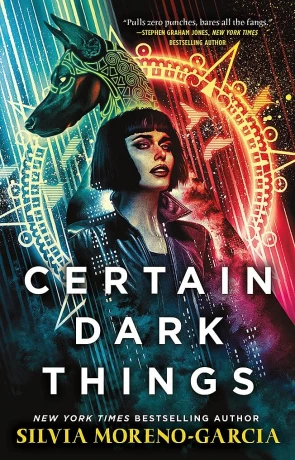 Book details
Certain Dark Things

Author:

Silvia Moreno-Garcia

Publisher:

ISBN:

9781250785589

Published:

September 2021

Pages:

320

Format reviewed:

Hardback

Review date:

07/09/2021

Language:

English
About the author
It was not until I browsed my sister's bookshelves that I realised that vampire fiction is its own genre. She is a prolific reader and seems to exclusively read vampire books. I asked her to lend me some and I realised why you can read so many 'similar' books and nothing else, as the books can be vastly different. Romances, thrillers, action, horror, each vampire book was different. Silvia Moreno-Garcia embraces these differences within Certain Dark Things as she does not have just have one species of vampire, but different clans who all have their own powers and unique features. One thing they do all have in common is a dislike of one another.
Domingo lives on the streets of a neo–Mexico City. Life is not great, but is could be worse as he has a place to sleep and makes enough money to get by. His life is changed forever when he meets Alt, a strange woman, on the underground. She invites him back to her place only to reveal that she is a vampire. Rather than suck him dry, Alt agrees to allow Domingo to act as her assistant. Secretly, Domingo seeks more than this, but is he knew the reason that Alt was in Mexico City, he may decide to get out while he still can. Alt is hiding from a ruthless cartel of vampires who are intent of killing her and all her associates.
Having read several Moreno-Garcia books in recent years you can be guaranteed of two things: great character creation and not knowing what genre the book is going to be. The author writes in genre fiction but never feels trapped into writing one style: romance, spy thrillers, fantasy. Certain would seem to fit perfectly with the author's style as vampire books often have links with deep tortured characters. The book centres on Domingo and Alt and their relationship builds as the book progresses. What are they? A master and her slave, friends, lovers, a protector? The connection between them twists and turns as the book does.
There are other characters who also populate the book and get their own viewpoint; a vicious vampire gang member, a police officer who specialises in vampire crimes and a man who job is to protect his vampire master's clan. The alternative perspectives give the book more tension as they close in on Alt and Domingo.
The book has a crime noir feel with some urban fantasy thrown in. The world is more than just vampire living among us, Moreno-Garcia creates a full world in which vampires are known about by humans and are treated differently depending in what country they are. Mexico City is a vampire free zone, thus making Alt harder to find, but also in greater danger.
Certain is further fleshed out by the distinct species of vampires in the book. The thing they have in common in their thirst for blood, but apart from this they are considerably different. Alt is a bird like vampire, others are antient beings that suck the life out of humans, whilst the Necros are more like the modern flesh tearers of film and TV. Moreno-Garcia has taken ideas of vampires from across the world and throughout history and played with them. The various clans are a compelling concept, which type of vampire will prove the most resourceful?
Even with its neo crime noir feel, Certain roots remain in the vampire genre as the central relationship between Alt and Domingo has that classic appeal. Can these two disparate beings work together, live together, love one another? The book does not fall into full romance but does touch upon it. It is a concept that has been explored in other vampire novels, but Moreno-Garcia does a good job of making the reader care about these particular characters and their relationship. I think fans of the vampire genre, like my sister, will get the most from this book as it has the touchstones they like, but the slight cyberpunk elements will also work for readers normally turned off by bloodsuckers.
You may also like