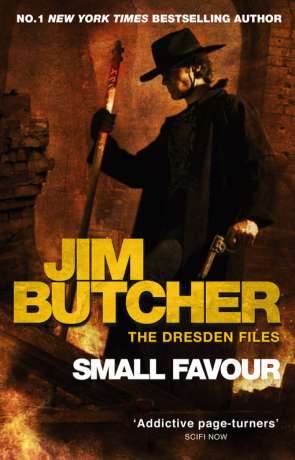 Book details
Small Favour

Series:

The Dresden Files

Publisher:

ISBN:

978-0356500362

Published:

May 2011

Pages:

464

Format reviewed:

Paperback

Review date:

05/12/2016

Language:

English

Age Range:

13-
Books in the series
About the author
No one's tried to Kill Harry in almost a year and the worst problem he has faced in that time is trying to get stains removed from carpets caused by his bungling apprentice.
Anyone who knows Harry knows that this is too good to last.
The person to put such a spanner in the wizards life is Mab, Queen of the Winter Court and someone who Harry is indebted to.
Mab decides its time to pay up, unfortunately doing so puts him between a nightmarish foe and a deadly ally, stretching his skills and loyalties to their limits.
We are now ten books in to the SFBook read of The Dresden Files, Jim Butchers rich urban fantasy series and there is no sign of a slowdown or end in sight for Chicago's first and only Wizard P.I.
Small Favour is my favourite Dresden novel so far, it has everything you could want from a book, a fast moving plot and a story that is turns funny, nail-biting and emotional. Pacing is fast and even while we once again get a little bit more insight into the life of Harry.
The book keeps you guessing as to what's going to happen with more twists and turns than a trump apology. Plot strands that were started a few books ago are picked up again, including those dastardly Denarians - we even learn a bit more about what Harry experienced picking up the coin. As with all these books though, it's the clever, humorous distractions that really set the books apart.
For me the highlight is the "Billy Goats Gruff" supernatural hitmen who go after Dresden at the worst possible moments. Each time one is defeated their bigger brother comes along to avenge their smaller sibling. It introduces a complication to the main story and each encounter is wonderfully scripted.
Small Favour is Butcher at his best, a tightly woven story that really draws you in and doesn't let go. It's smart, funny and rewarding urban fantasy.
Written on 5th December 2016 by Ant .
You may also like