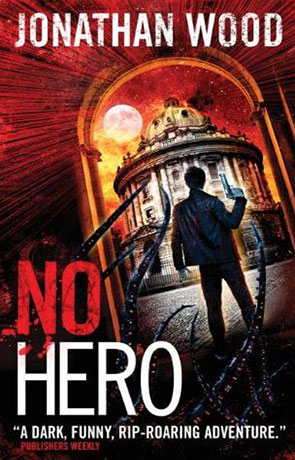 Book details
No Hero

Publisher:

ISBN:

978-1781168073

Published:

March 2014

Pages:

384

Format reviewed:

Paperback

Review date:

21/07/2014

Language:

English

Age Range:

15-
Arthur Wallace, inspired by 80's films such as Tango and Cash, is an Oxford copper who finds himself entirely unprepared when fate chooses him to step up and play the hero; recruited as he is by the mysterious government agency MI37.
Luckily he's always lived by the mantra "What would Kurt Russell do?" but even the venerable action hero might find himself outclassed against an inter-dimensional nightmarish group of creatures who now threaten our reality.
Told from the first-person, No Hero is an interesting Urban fantasy tale that has a distinctly British quality to it. The novel plays out like a men-in-black tale but with a severely under-funded department largely run by miss-fits.
That's where Arthur comes in, with his Police training and natural leadership its assumed he can get the rag-tag team of agents to work effectively while also providing some real detective skill in the unusual crimes MI37 faces.
There is a nice, friendly style to the prose which is full of genuine humour but at times it feels a little restrained (which admittedly fits perfectly with a British style). Most of the humour is from Arthur who has a wonderfully self-deprecating manner that helps to bond the reader to the character. Arthur makes an interesting character too, the author manages to avoid making him an out-right hero - re-enforced by the characters introspective self-critique.
The supporting cast are colourful but at times seem a little too dimensional, the authors use of minimal back-story while intended to promote an enigmatical style is at times bordering on characterless. The interplay between the team members does somewhat offset this however, especially the hint at romance between Arthur and another character (no I won't spoil by mentioning who).
The plot is intriguing and inventive while the pace trips along steadily and progressively faster. The real highlights are the action scenes though and here the authors narrative style really shines. Each scene could have been lifted straight out the finest action movies or choreographed by the best movie directors. On top of this is the realistic portrayal of the team, they often fall flat on their face and make realistic mistakes (as most people do) and this sense of realism forms a tight cohesion to the novel.
The author does an admirable job of not pulling punches either, willing to sacrifice characters when needed (although not gratuitously as GRRM might). The use of magic is also inspired, an idea I haven't seen used anywhere else and one that works well. The story builds towards a rewarding finale and I love how the author manages to create a feeling of dissorientation in parts as Arthur stumbles through the twists and turns of the plot.
No Hero is a solid start to a promising Urban Fantasy series, with a Britishness that goes all the way down to its socks and Sandals and a story that delivers.
Written on 21st July 2014 by Ant .
You may also like