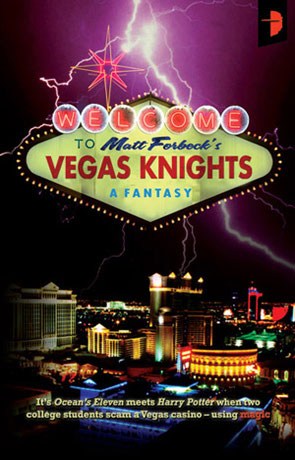 Book details
Vegas Knights

Publisher:

ISBN:

9780857660848

Published:

March 2011

Pages:

384

Format reviewed:

Paperback

Review date:

01/03/2011

Language:

English

Age Range:

N/A
About the author
Vegas Knights is an urban fantasy novel by Matt Forbeck.

Set in Las Vegas (Nevada) the story tells the tale of two college guys Jackson and Bill at the University of Michigan who also happen to be students of magic (or "trans-quantum postulating" in scientific terminology). Having learnt such valuable skills they decide to put them to the best use possible and clean out a few of Sin Cities finest casino's during spring break. Winning big and beating the system should be easy when they have the secret and rare skill of real magic, shouldn't it?

This is the second novel I have read from Matt Forbeck although I have run into his work previously when I used to collect and play Games Workshop games (he co-designed the Space Hulk expansion "Genestealer" amongst his many other achievements). Matt Forbecks previous novel was the most excellent "Amortals" which was SFBook book of the month for November 2010 and came a very close third in the Book of the year 2010. I can also testify that he is a really nice guy from the few tweets I have exchanged with him.

Narrated from the viewpoint of Jackson, the story starts off innocently enough with two students on holiday and it feels very much like a contemporary novel with the small inclusion of "magic". It isn't long before you realise though that there is a lot more to the novel than first appears. The quality of the writing is quite exceptional with such an easy reading, friendly yet clever style that immediately puts you at ease and grabs your attention in a vice like grip from the very first chapters.

The characterization is very convincing, even the incidental players are portrayed well and the interplay between Bill and Jackson is great (there is a very memorable scene at the beginning where Bill is holding a gun to Jackson's head, it's just priceless). The plot is well thought out and has a nice pace and while it's not as convoluted as many it has enough twists and turns to keep even those with a goldfishes attention span hooked.

The action is very well placed and like Amortals there is an almost movie like quality to the script. The underplayed use of fantastical elements manages to ground the story and create that all important suspension of disbelief and works effortlessly despite a minimal but very convincing back story.

Vegas Knights feels very much like one of those grand adventures that you take as kids / young adults but much more exciting / dangerous and with the added bonus of the walking undead (familiar to anyone who's holiday'd in Morecambe) and full of more interesting people and exotic places. Actually scratch that, Vegas Knights is like one of those adventures that you have always dreamed of taking as a kid / young adult. It's fantastic entertainment and I loved every minute of it, Viva Las Vegas (Knights)!.
Written on 1st March 2011 by Ant .
You may also like