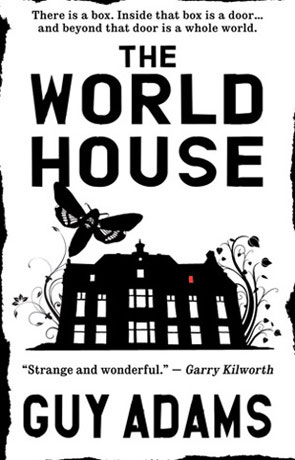 Book details
The World House

Publisher:

ISBN:

9780007345045

Published:

February 2010

Pages:

416

Format reviewed:

Paperback

Review date:

08/02/2010

Language:

English

Age Range:

N/A
Awards won
About the author
The World House is the first novel of a two part modern fantasy, written by Guy Adams.

An unassuming wooden box, small enough to hold in one hand and carved with Japanese writing, except it doesn't open as you would expect a box to, it opens the door to the most unusual house you could ever dream (or have nightmares) about. The box is also quite intelligent and seeks owners (victims) to send to the house.

The house itself is a complete dimension, a whole world where normal rules of logic do not apply, and in every room lurks a new danger. In some rooms are complete jungles, in others stuffed animals that still have plenty of life left in them. The house even has it's own version of day and night and the night is the time when the dangers really begin.

In the centre of the house there is a small room and this could be said to be the most normal room of the house, there are no killer moths, no deranged cherubs and no animated objects. The room is locked securely and contains a small, balding pot bellied bespectacled man who sits alone with only the house for company. This man, like the house is not what he seem though and should he ever leave that room the world will end.

A seemingly random group of people are new house guests chosen by the box including an antiquities store owner and incessant gambler, an alcoholic piano player and his pole dancing friend, a middle aged teacher and box aficionado along with an autistic and very bright child.

The World House features a very much unique and imaginative plot and has a real sense of it's own style. Guy Adams draws the reader into this strange and twisted house along with it's (unwilling) participants with rich, interesting characters and fast paced dialog.

Rather than one central protagonist, the World House describes each characters journey from finding / acquiring the box to the journey through the house, ending in some what of a cliffhanger.

If you can imagine a better written and acted adult version of the rather mediocre "family" film Jumanji, and then made into a Twilight Zone episode, you could almost grasp what Guy Adams has achieved here, a rich, skillfully written tale easy to read and difficult to forget.

The World House is a utterly original, quite crazy and simply brilliant piece of fiction.
Written on 8th February 2010 by Ant .
You may also like