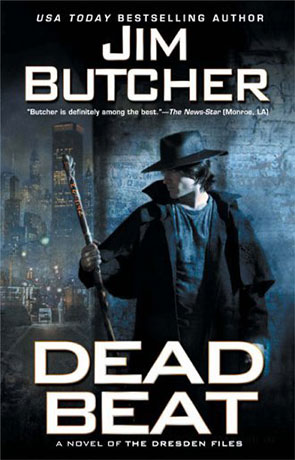 Book details
Dead Beat

Series:

The Dresden Files

Publisher:

ISBN:

978-0356500331

Published:

May 2005

Pages:

464

Format reviewed:

Paperback

Review date:

20/04/2015

Language:

English

Age Range:

15-
Books in the series
About the author
The Word of Kemmler, a book of potentially catastrophic power should it fall into the wrong hands. Mortiferous forces have gathered in Chicago and it would seem the windy city may be the resting place of the ancient tome.
Of course that means it's up to Harry to prevent the book falling into the wrong hands and all levels of hell descending upon the world (again). This time help is given from unlikely (and sometimes unwanted) sources.
Since the last novel began a momentum to move Harry's life forward, Dead Beat continues this trend and there are some further big changes in store for Chicago's only professional wizard. Despite including and advancing some of the over-arcing threads (along with introducing a few new ones), Dead Beat works very well as a stand-alone. Impressive for the seventh book of a series and a testament to the skills of the author.
For those who are following the series however it's this steady progression and sheer depth of the Dresden universe that helps the series to become so addictive. The thing that really grips you though is the easy, warm and friendly prose - Butcher is unmatched in this regard and for me it's simply impossible not to love this series and the world-weary wizard that is Harry Dresden.
The pace is, as ever, fast and fluid with plenty of well scripted action — it feels like this book has even more scenes of energetic and frantic fights than those before it. This combines well with Harry's usual self-depreciating, sarcastic humour and his realistically human limits and flaws. There are the usual twists and turns to the plot and some more genuine surprises in store for the reader and for Harry. As you might expect from the name the Undead feature heavily and we get a glimpse into that darkest of magics, necromancy.
Another skillfully written novel in the finest of urban fantasy series that just gets better and better, simply superb.
Written on 20th April 2015 by Ant .
You may also like