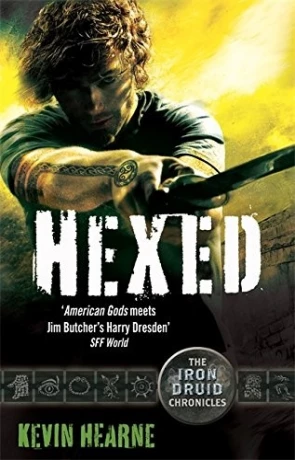 Book details
Hexed

Series:

Book 2 of The Iron Druid Chronicles

ISBN:

978-0356501208

Published:

June 2011

Pages:

320

Format reviewed:

Paperback

Review date:

01/01/2023

Language:

English
Books in the series
About the author
Hexed is the second book in Kevin Hearne's Iron Druid Chronicles, a series of urban fantasy novels featuring the adventures of Atticus O'Sullivan, a two-thousand-year-old druid who is trying to keep a low profile in modern-day Tempe, Arizona.
The story picks up where the first book, Hounded, left off, with Atticus still on the run from the Celtic god Aenghus Óg, who wants to kill him and reclaim the magical sword Fragarach, which Atticus possesses. In addition to dealing with Aenghus Óg and his minions, Atticus must also deal with a group of vengeful witches who want to kill him for killing their coven leader in the first book.
One of the things that makes Hexed stand out as a novel is its unique blend of action, humour, and mythology. Hearne does a great job of balancing these elements, and the result is a fast-paced and entertaining read. The action scenes are well-written and exciting, and the humour is often clever and amusing. The mythology is also well-integrated into the story, and Hearne does a great job of explaining the various gods, goddesses, and supernatural beings that appear in the novel without overwhelming the reader.
Atticus is a likable and relatable protagonist, and Hearne does a great job of fleshing out his character and giving him depth. He is a wise-cracking, no-nonsense kind of guy, and he has a strong sense of justice and a desire to do the right thing, even when it's difficult. He is also a skilled fighter and has a wide range of magical abilities at his disposal, which he uses to good effect throughout the novel.
The book (and series) has a diverse and interesting group of supporting characters, each of whom has their own motivations and personalities. These include Granuaile, a young woman who is Atticus's apprentice and has a talent for shape-shifting; Leif, an old and powerful vampire who is Atticus's friend and ally; and Oberon, Atticus's Irish wolfhound, who serves as his loyal companion and has a habit of talking to Atticus telepathically.
One of the weaknesses of Hexed is that it is part of a series, and as such, it can be a little confusing for readers who haven't read the first book. There are references to events and characters from Hounded that may not make sense to someone who hasn't read that book. However, this is a minor issue, and the story is still enjoyable and easy to follow even if you haven't read the first book.
In addition to the action and humour, Hexed also explores some deeper themes and ideas. One of these is the idea of responsibility and the consequences of one's actions. Atticus is a powerful and skilled druid, and he is often called upon to use his abilities to help others, whether it's fighting against Aenghus Óg or defending Granuaile from the witches. However, he also has to deal with the consequences of his actions, both in terms of the danger he puts himself in and the moral dilemmas he faces. For example, he has to weigh the value of saving someone's life against the potential cost of exposing his own identity and risking the wrath of the gods.
Another theme that emerges in Hexed is the idea of identity and self-discovery. Both Atticus and Granuaile are in the process of discovering who they are and what they want out of life. Atticus is a two-thousand-year-old druid who has lived through many different eras and has a wealth of experience, but he still has to figure out what he wants to do with his life and how he wants to use his powers. Granuaile is a young woman who is just starting out on her journey as a druid, and she is still trying to figure out who she is and what she wants to do. Both characters are struggling to find their place in the world, and their journey of self-discovery is an integral part of the story.
Hearne has a distinctive voice and a clever wit, and his writing is engaging and entertaining. The dialogue is snappy and natural, and the descriptions of the action and settings are vivid and immersive., although at times, like in the previous book he does occasional tell rather than show. He does have a talent for creating memorable and likeable characters, and does a great job of making the reader care about what happens to them.
Overall, Hexed is a well-written and entertaining urban fantasy novel. It has engaging characters, a fast-paced plot, and a unique blend of action, humour, and mythology. If you're a fan of urban fantasy or just looking for a fun and enjoyable read, Hexed is definitely worth checking out.
Written on 1st January 2023 by Ant .
You may also like