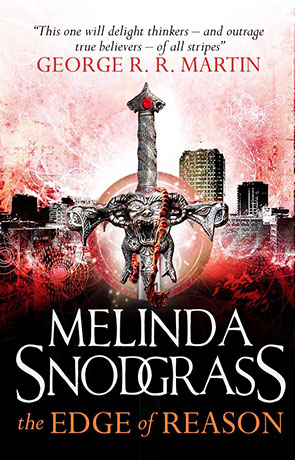 Book details
The Edge of Reason

Publisher:

ISBN:

978-1783294602

Published:

September 2014

Pages:

384

Format reviewed:

Hardback

Review date:

22/11/2014

Language:

English

Age Range:

N/A
Reading the quote on the cover ("War between science and superstition") along with the image could lead you to believe that The Edge of Reason is a sword and sorcery fantasy or religious thriller. It isn't.
Instead it's a modern day Urban fantasy that rides the popular wave of police-procedural novels but with a sort of religous twist. The book cover only really makes sense after you've finished reading the book. The same can be said of the book itself. For the most part it's a fairly fast-paced story that's told in an engaging manner and does well to build tension. Part way through though the plot stalls while we get treated to a large section of character back story (limited entirely to the protagonist).
This break almost made me give up on the rest of the book, it just goes on too long before the story begins again. This investment in time does pay off however (I wonder how many will give up without ever knowing) and makes the last few paragraphs so much more powerful. The ending itself manages to surprise and is worth reading the whole book just to see. Without giving too much away, this is clearly just be beginning of a big story.
It's a good thing that the writing is engaging as the characters aren't, I found it very difficult to form any sense of bonding with the male protagonist at all while the surrounding cast seem largely two-dimensional. It's a real shame as some of the characters clearly deserved more and have enormous potential. Even with the extended exposition part way through I never managed to develop any emotional attachment to any of them.
As a result, instead of sympathising with poor police officer Richard Oort some of his actions just grated on me. His relationship with his father especially seemed unrealistic as did the actions his father took. Part of the issue here is the authors vehemence for gay rights. I agree with everything she says here but it's like going on and on to someone about a subject that a) they are already aware of and b) already agree with. Having said that the author does introduce some other serious messages quite effectively and in a modern manner that has more impact as a result.
The way that religion and the fight between "good and evil" (or perhaps "better and worse") is effective and imaginative, when combined with the well written plot and overall quality of the wrting, saves the novel. The authors take on religious entities and how / why they affect the world is a clever one and well excecuted.
The Edge of Reason is far from perfect however it's like an uncut gem, there is potential for an incredible series if some of those rough facets can be polished. Despite these rough edges it is an entertaining novel and one worth reading for the ending alone.
Written on 22nd November 2014 by Ant .
You may also like