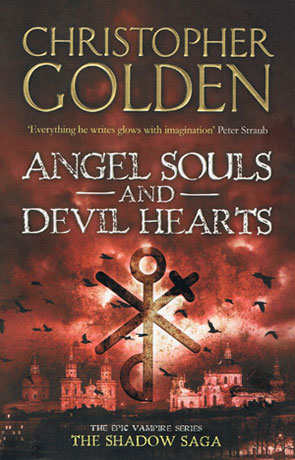 Book details
Angel Souls and Devil Hearts

Series:

The Shadow Saga

Publisher:

ISBN:

Published:

1995

Pages:

384

Format reviewed:

Paperback

Review date:

05/10/2010

Language:

English

Age Range:

N/A
Books in the series
About the author
Angel Souls and Devil Hearts is the second volume in the fantasy horror series "The Shadow Saga" by Christopher Golden.

An Epic tale of Vampires, Sorcery and War...

The Shadows have been living among us unknown for thousands of years and now revealed the ancient Vampire race must confront the most powerful of monsters - that of human prejudice and racism. In a world where good and bad has flipped on it's axis the holy war is beginning and human must join with Vampire to have any chance of defeating the rising demons of hell.

As these two races fight for their very existence they face the ultimate betrayal, from one of their own and the Shadows begin to learn the hidden truth of what they really are. What they learn about their origins is more extraordinary and more explosive than they could possibly have imagined.

Yet another Vampire book I hear you say! but before you run off into (or away from) the twilight, this isn't one of those copycat trashy sloppy romance disguised as horror novels - this is the real deal. Don't believe me, look at the date it was originally published - 1995, that's even pre-Buffy (first aired 1997) and before any of this recent sloppy nonsense became popular. Indeed this book is different than most, the Vampires here are known to the world and have to overcome human intolerance and racism. In this respect there are shared elements with those currently popular novels, almost humanising the Vampires and making them less monsters and more miss-understood.

Where The Shadow Saga differs though is in the way this is done, Christopher Golden manages to create a more human side to these undead without de-fanging them or without them becoming angst-ridden or soppy, under all the nicety you can tell there's still a raw primal energy and they clearly arn't human. I must admit that I haven't read the first volume in the series but I didn't feel left out because of this, Angel Souls and Devil Hearts is perfectly good as a stand alone novel and there are enough hints at the back-story to work out what's gone on before.

There is a nice fast pace to the book, most of the novel takes place over a single 24 hour period and there are some really nice twists along the way. Christopher Golden isn't afraid to bump off any of the major characters in the book, which is quite refreshing, although I must admit that the only negative is that the characters do feel a little flat and when some of them did die I wasn't as moved as I should have been. That said it's still a great book with some excellent vivid action sequences and some nice surprises. I did also really like the "Wild Bill Cody" character and the way that Christopher Golden has blended fact with fiction is pure genius.

Overall this is a great book, a genuinely different take on the Vampire theme, a fast pace, great action and some real surprises. Recommended.
Written on 5th October 2010 by Ant .
You may also like