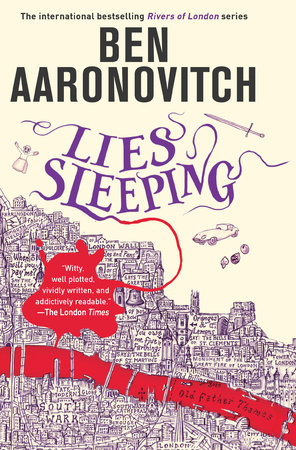 Book details
Lies Sleeping

Series:

Rivers of London Series

Publisher:

ISBN:

978-1473207813

Published:

November 2018

Pages:

416

Format reviewed:

Hardback

Review date:

11/03/2019

Language:

English
Books in the series
About the author
Lies Sleeping is the seventh book (eighth if you count The Furthest Station) in the impressive River of London urban fantasy series, following Peter Grant - detective constable for the metropolitan police and apprentice wizard.
It looks like time may finally be up for the Faceless Man (Martin Chorley) as a joint police operation looks to ensnare the criminal mastermind. But even as the unwieldy might of the Metropolitan Police bears down on its foe, Peter uncovers clues that Chorley, far from being finished, is executing the final stages of a long term plan. A plan that has its roots in London's two thousand bloody years of history, and could literally bring the city to its knees.

To save his beloved city Peter's going to need help from his former best friend and colleague–Lesley May–who brutally betrayed him and everything he thought she believed in. And, far worse, he might even have to come to terms with the malevolent supernatural killer and agent of chaos known as Mr Punch...
Rivers of London is one of my favourite active series right now. I'm glad to see that seven books in there are no signs of slowing down, Aaronovich has really hit his stride. I love how the author manages to mix fantastic elements with those of seemingly realistic police-procedure. The way he describes the processes and mannerisms of Londons' finest is just magical. This all combines effectively with the authors clever wit, with the usual humour evident throughout. Then there are the little dips into Londons' impressive history, adding greatly to the books ambience. Peter's boss Nightingale gets a bit more time to show us just how and why he's the leader of the specialist police unit. There are a lot of loose ends tied up in this book, some of which has been unravelling for quite some time.
Lies Sleeping isn't the right place to start if you haven't read any of the previous books in the series, even if you don't want to start at the beginning, I wouldn't join here. More than any before it, this book assumes the reader knows the characters and events leading up to where we are now. For those who have at least read some of the Rivers of London, this has everything you might hope for. From the dry humour, great action sequences and a more decisive story, Lies Sleeping hits all the right notes.
Written on 11th March 2019 by Ant .
You may also like