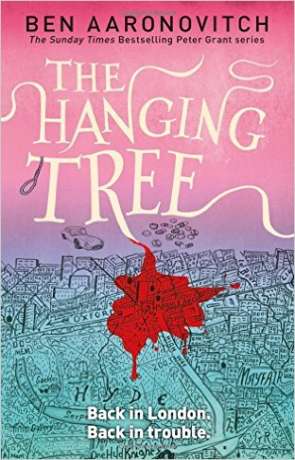 Book details
The Hanging Tree

Series:

Rivers of London Series

Publisher:

ISBN:

978-0575132559

Published:

November 2016

Pages:

400

Format reviewed:

Hardback

Review date:

21/12/2016

Language:

English

Age Range:

13-
Books in the series
About the author
The Hanging Tree is the sixth novel in the Rivers of London series. For those who have yet to experience these wonderful books imagine an Urban Fantasy with police procedural elements, warmly written with a disarming humour and celebrating the many hidden rivers that wonder through London (with exception to the last book Foxglove Summer which ventured into the countryside).
The police procedural elements are superb, feeling as close to real police work as you can possibly imagine. In The Hanging Tree Peter Grant is called to investigate the death of a young woman in one of London's most exlusive areas. While it appears she died from a drug overdose there appears to be some supernatural involvement.
To complicate things further, the Lady Tyburn has asked Peter a personal favour in investigating what's going on.
The pace is swift and the plot moves constantly forward, while the story works well. This book more than any previous in the series provides some well overdue insights into the Faceless Man and Peter's ex-partner Lesley.
We also get some nice backstory on Peter's own family, his fathers love of music and his Afro-Carribean heritage from is mother. As a result it feels a more personal book, and these insights into Peter, Lesley and others feel important as the plot itself. At times it seems the story takes second place to these character developments and progress of the over-reaching series arc.
The Hanging Tree is easy, joyful reading that builds the suspends as the book progresses, culminating in an effective, if somewhat nail-biting ending that leaves you wanting more. Highly recommended Urban Fantasy.
Written on 21st December 2016 by Ant .
You may also like