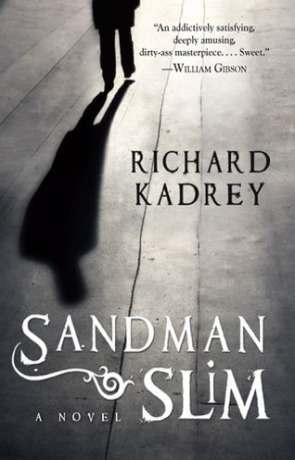 Book details
Sandman Slim

Publisher:

ISBN:

978-0007445981

Published:

June 2012

Pages:

390

Format reviewed:

Hardback

Review date:

27/09/2017

Language:

English

Age Range:

15-
I'd like to start this review by saying that Richard Kadrey doesn't get the visibility he deserves, not by a long shot. I only discovered him myself by seeing other authors discussing how wonderful his work is.
They aren't wrong.
Sandman Slim - real name James Stark - has just spent the lat eleven years in Hell only to arrive in modern day Los Angeles. He's one of the only people on the planet who has been to Hell and back without actually dying and has picked up quite a few tricks while down there.
Now he's after revenge against those who sent him to the fiery realms but quickly realises that revenge can take a lot more time and effort that you'd realise.
Having the protagonist start the story by escaping the depths of hell helps to set the story apart from other urban fantasies. As you might expect it's a dark and twisted story, unexpected though is the wonderfully rich and disarming humour. It's dry and irreverent and when combined with the quality of the writing creates a disarming and engaging novel.
Stark is the perfect antihero, a man of power and determination but also one with some powerful enemies. The author does a great job of bringing him to life and also making him eminently likeable. While most would just give up after being sent to hell, Stark spends the next 11 years as a hitman.
The story itself provides an effective introduction into the less pleseant parts of LA life as seen through the revenge-tinted eyes of the protagonist.
Sandman Slim is a good start to a promising series, at times reminiscient of Jim Butcher at his best, but different enough and with a strong voicw. Highly recommended for any fan of urban fantasy.
Written on 27th September 2017 by Ant .
You may also like