The Pale House Devil
By Richard Kadrey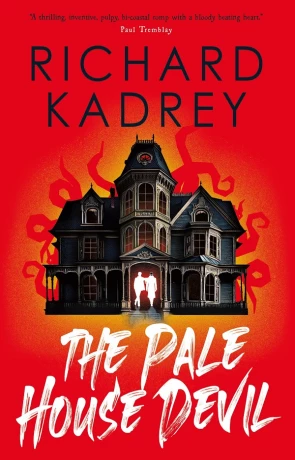 Book details
The Pale House Devil

ISBN:

9781803363899

Published:

October 2023

Pages:

108

Format reviewed:

Paperback

Review date:

03/11/2023

Language:

English
About the author
I read a lot of spooky and downright horrific books in the run up to Halloween this year, but the horror books that work well stick in the mind all year round. The Pale House Devil by Richard Kadrey is not your typical horror novel, nor is it your typical comedy book, or buddy story. This is a book that is pure Kadrey. Welcome to his world, one that you won't just forget on All Saint's Day.
Ford and Neuland are killers for hire, but they specialise in the supernatural. Neuland is dead so can kill the living, while Ford is alive and can kill the undead. A useful setup if you kill someone and they instantly rise again from the grave – 2 kills for the price of 1. After botching their last job in New York, the pair decide to lay low in LA, the armpit of America, but needs must. They are hired by a recluse to kill the strange being that is haunting the old man's house. Sounds like a straightforward job for the experienced pair, but this is an entity and a scenario they have not come up against before.
Mixing dark humour and horror feels like it should be a perfect blend and it is when done well. The problem is that it is done poorly more often than I like. Kadrey has top form in this subgenre with the Sandman Slim novels and Pale is a little slice of a novelette from the same vein. At just over 100 pages, the book may be short, but Kadrey makes it a punchy and fun read. The low page count means that the story rattles along.
Kadrey uses many of the classic tropes of crime noir and applies them to the horror genre. The anti-heroes, killers who that you cannot help but like. A femme-fatale and a grizzled old man who cannot be trusted. Ford and Neuland are such a snarky duo that they call out all the Bull for what it is, and it is amusing watching them dish out their own form of justice. What do you expect when you hire people who are outside the law?
It is Ford and Neuland that make this book as fun as it is. They are cold hearted killers and should be easy to hate, but you like them. They have an easy style and a twisted sense of morality that you can get behind. The style means that the book evokes lots of my favourite authors; the snarky PI feel of Robert B Parker or Carl Hiaasen. It is a great feeling comedy crime novel, that just happens to be in a horror setting.
I was also impressed with the horror lore. Kadrey does not lean into this, but you get the sense that the story is built on a foundation. A world in which the undead are known about, but often persecuted and killed. The thing that lives in the Pale House also has its own identity, we get to know what it is thinking, in its own bizarre way. As the story concludes the creature's fate and that of the old man who hired the mercenaries is drawn together like any good satisfying crime story.
This is a short piece of work but holds up as an excellent book. It may just be the perfect introduction to one of the most entertaining writers in the genre sphere right now. Fans of comedic horror will love the book, but there is also a great amount for those who know their hardboiled Noir through to the sun-bleached crime comedies of the 70s and 80s. A perfect short read.
You may also like