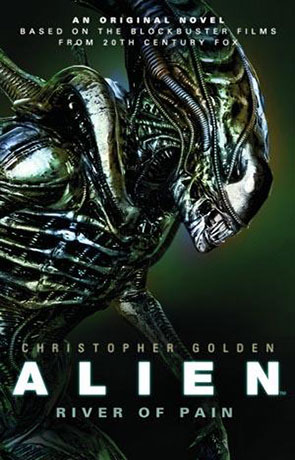 Book details
Aliens: River of Pain

Series:

Aliens Series

Publisher:

ISBN:

978-1781162729

Published:

November 2014

Pages:

352

Format reviewed:

Paperback

Review date:

13/02/2015

Language:

English

Age Range:

18-
Books in the series
About the author
The story behind LV-426 is more terrifying than anything my childhood imagination lent after watching Alien and Aliens on VHS. Although before my generation, both Ridley Scott and James Cameron contributed to one of the most terrifying storylines in cinema history. And for this reviewer, it has become a personal favorite—even more so with Titan Books' release of the new Alien strain: Alien: River of Pain. This final installment is the conclusion to a three-part series that isn't quiet a trilogy. Each book tackles a certain aspect of the Alien timeline. See other reviews on SFBOOK for details on the prior two novels.
Christopher Golden's Alien: River of Pain is my favorite of the three. Having now read the series as well as Steve Perry's Dark Horse novels from the 90s and Alan Dean Foster's novelizations of the films (waiting on Alien Resurrection to re-release March 2014 by Titan), Golden's story tells the story that I have fantasized about for nearly 20 years: the destruction of Hadley's Hope between main protagonist Ellen Ripley's rescue and the distress call that brings her back into contact with the universe's greatest enemy: the Xenomorph. Keep in mind that this story can be read separate of the other two in the series. So, if you are in the mood for some alien action, this is a great place to start.
River of Pain feels fresh and crunchy, a term I have adopted from one of my professors who saves it for something that hasn't been tried and done to death in history (or for this matter, stories). Although there has been a lot of backstory in the other Alien novels that speculates about the disaster at Hadley's Hope, no one has ever fleshed out the story as a stand alone novel. It has been Rebecca, Newt from Aliens, that has told bits and pieces of the story in both the film and then later as an adult in Steve Perry's three-part epic.
Golden brings to life the drama that pitted Colonial Marines against Corporate administrators, which created the unfortunate situation in the Aliens film. Newt's parents are given prominent roles in the discovery of the Xenomorph. Through Golden's imagination, readers witness the unraveling of the content and promising terraform colony. As the horror unfolds, Golden creates sympathy for the colonists and tells their last hours with dignity and, yes, plenty of Alien vs. Colonial Marine action!
I look forward to more about the Alien Universe from Titan Books. The Rage War: A Three-Part Epic by Tim Lebbon is scheduled to release in 2015, combining both Alien and Predator aggressors against one another in a new strain of novels.
Easily, and without hesitation, five stars.
You may also like