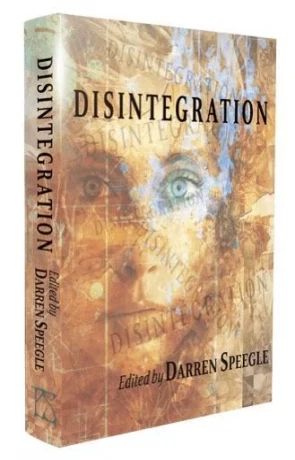 Book details
Disintegration

Publisher:

Drugstore Indian Press

ISBN:

978-1-78636-999-4

Published:

November 2023

Pages:

278

Format reviewed:

Paperback

Review date:

19/11/2023

Language:

English
Being a short story lover I'm delighted that dark fiction anthologies are so popular today, but since anthologies are, by definition, mixed bags I'm also aware that in any collection there are stories which are able to enchant and others which simply do not work, even if penned by respected writers.
The present anthology is a standing example of this dichotomy.
It includes fifteen stories and the authors line up is impressive: Tim Lebbon, Angela Slatter, Lisa Tuttle, Brian Evenson, Erinne L Kemper, Cody Goodfellow, BE Scully, Michael Griffin, Mark Samuels, Nadia Bulkin, Mark Morris, Laird Barron, Nadia Tambour, Ramsey Campbell, Jeffrey Thomas.
Unfortunately not all the contributors seem to be at the top of their game and the result is that the quality of the stories is quite uneven.
Some stories however, are truly excellent and here they are.
"The Tale's in the Telling" is yet another of Angela Slatter's dark fables, where not everything is completely clear ( at least to me) but the narrative is so engrossing that the reader feels mesmerized.
Mark Samuels contributes "A Universe of Charnel Glamour", the intriguing and disturbing report of the strange activities taking place inside an asylum.
"Tin Pistol" by Mark Morris is a well built story depicting the world of teenagers and the sufferings of an outcast. Despite the quite predictable ending the tale is extremely enjoyable and entertaining.
"The Twilight of Life" by Jeffrey Thomas is a pessimistic but effective tale of urban alienation, loneliness and sadness, showing that real horror is what's inside our souls.
Enjoy.
Written on 19th November 2023 by Mario Guslandi.
You may also like