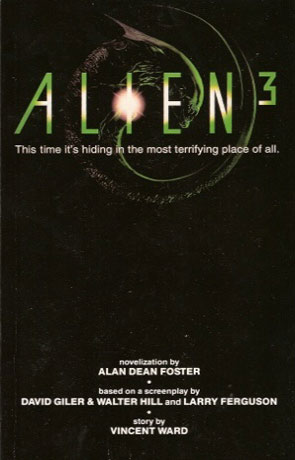 Book details
Alien 3

Series:

Aliens Series

Publisher:

ISBN:

978-1783290192

Published:

June 1992

Pages:

320

Format reviewed:

Paperback

Review date:

23/01/2015

Language:

English

Age Range:

N/A
Books in the series
About the author
WOW! I have not said that in a while and this reviewer surely did not expect that word to come from Alan Dean Foster's 247-page novelization of Alien 3. Like so many—like millions— who were disappointed with David Fincher's 1993 film, I did not expect Foster's novel to change my mind about the "original" conclusion to the Alien franchise. Even ten years ago when I watched the Director's Cut, I was still left wondering exactly what I was suppose to feel about Ellen Ripley's final battle with the Xenomorph. Those familiar with the film will not find any spoilers here, for those who have not seen the film, there will be several plot points discussed in this review.
The original draft for Alien 3 was for Ripley to crash land on a planet in the outer system that was home to a monastery. Much of the theme was kept with the inclusion of Dillon's character and his followers who chose to stay as custodians for a mining colony turned maximum-security facility. Yet, I can't help but wonder what the story would have "felt" like to have had devoted monks instead of barbaric prisoners for the Xenomorph's supper menu. This is a point addressing the film's story and not Foster's novelization. So, perhaps it's safer to just stick to the Foster's story and a comparison with the film they actually made.
Foster saved Alien 3 and gave it new life for this reviewer. Due to its brevity and my surprised enjoyment, I read the novel in one sitting. I wanted to write the review immediately afterward but did not want to come off too much of a "fan boy" while still basking in amazement with a wonderful reading buzz. Now, a few days later, I am still surprised at how much I enjoy the story. I had never been able to connect Ripley to Clemens, the "accidental-homicidal doctor," or to the queen growing inside of her. Yet, in Foster's story it finally dawned on me that the apocalyptic-themed maximum-security prison and the newly enhanced Xenomorph, coupled with the queen growing inside the "queen-slayer:" it is a chance for a new beginning and that the slayer and the dragon (Xenomorph) must both be destroyed to prevent the "apocalypse." Much like Christ, Ripley must defeat evil through death, and later resurrection (the film Alien Resurrection).
Superintendent Andrews makes much more sense in the novel, a respecttable prison warden who is scared of Weyland and its massive political-power and not just a jerk who ignores immediate danger to save routine and order. Also, Golik's developed telepathic connection to the new warrior-drone Xenomorph is fleshed out in the novelization, which is very satisfying for anyone who has read Steve Perry's novels. Many assumptions are removed from the film, providing at time obvious answers for certain character motivations but also offering additional dialogue that just helps the film's plot roll much more smoothly. Comparatively, the novelization is better than the film.
A must read for the millions who were disappointed with the film. And having read the novelization, l re-watched Aliens 3: Director's Cut. I enjoyed it in a way that I have not been able to since first seeing it when I was ten. Do not give up on the Alien series and do not just limit yourself to just the movies Alien and Aliens. There is so much content here and Aliens 3: The Official Movie Novelization really helps to excite readers to go farther and see what really makes these aliens so freaking badass!
Surprisingly to most, even to myself, 5/5 Stars.
You may also like