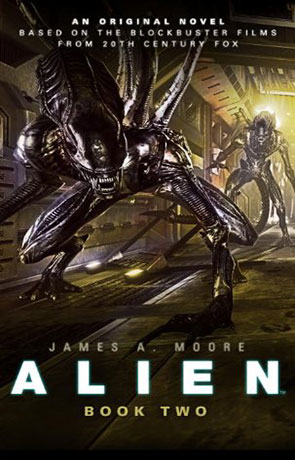 Book details
Alien: Sea of Sorrows

Series:

Aliens Series

Publisher:

ISBN:

978-1783292851

Published:

July 2014

Pages:

368

Format reviewed:

Hardback

Review date:

21/12/2014

Language:

English

Age Range:

15-
Books in the series
The second installment in the new Alien series by Titan books is quiet different from the first and doesn't quiet fit in the way I expected. Yet, it delivers what any fan of the Alien franchise craves: insane amounts of Xenomorph action.
Alien: Sea of Sorrows takes place on LV178, which is what connects it with Lebbon's Out of the Shadows. But, Sea of Sorrows occurs several generations later as a descendent of Ellen Ripley comes into contact with an alien queen, driving the alien drones mad with one simple human-like emotion: vengeance.
Overall, Sea of Sorrows was a great story with a well-crafted protagonist, Decker. I thought several times of Blade Runner's Rick Decker, as his personality and the future he lives in mirrors, at least slightly, that of Philip K. Dick's world. After the evil Weyland-Yutani Corporation rediscovers an alien hive on LV178, Decker is forced to join a group of wayward Colonial Marines to recover a live specimen. With the stakes higher than ever, each marine will face their own private hell in the alien tunnels and onboard the mysterious horseshoe-shaped space craft crashed among the ruins of an ancient civilization. This one question that stays with the reader: Will Decker's connection with the alien queen and psychic ability inherited from his ancestor Ripley be enough to save himself and the survivors?
If you have read Alien: Out of the Shadows and enjoyed it, then by all means pick up James A Moore's continuation.
You may also like