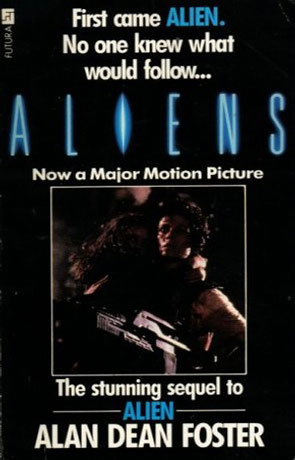 Book details
Aliens

Series:

Aliens Series

Publisher:

ISBN:

978-1783290178

Published:

June 1986

Pages:

320

Format reviewed:

Paperback

Review date:

16/01/2015

Language:

English

Age Range:

N/A
Books in the series
About the author
Novelizations of movies are often jutted to the back of the bookshelf after one reading. Reviewers are critical, normally arguing that it is just an attempt to make money off a popular film franchise, and at times they do so justly. Yet, some novelizations often tell the story in a way film simply cannot commute: taking the reader into the minds of the characters. And for this, Alan Dean Foster is a force to be reckoned with. Written originally in 1986, Foster respectfully adds to the Alien universe in a way that even Ridley Scott (Alien), James Cameron (Aliens), and David Fincher (Alien 3) could not with a camera. It is not the movies are better than the books or vice versa (except with Alien 3, which you can read about in my review here on SFBOOK). The books offer a new fresh perspective to tell the events and, if done properly, take the reader a few levels deeper to discover something that went unseen in the films.
First off, Aliens: The Official Movie Novelization is well written and fleshed out, transitioning smoothly from scene to scene. This is not the novel shoved to the back of the bookshelf. Instead, for me, it rests upright next to my Ender's Universe novels. Readers should not be hesitant about the quality of the story, and yes, it does offer more than the movie in dialogue and retells certain scenes. Foster offers an alternative response for our character's actions and motivations in several key scenes. Whether or not you like this, well… you have to read it first. For me, at times Foster's direction is often a better alternative. Most importantly, Foster dives deep into the minds of Ripley, Newt, Burke, Hicks, Hudson, and others! What made Burke such an ass, and where was he planning to run off to in the third act of Aliens when the Xenomorphs overcame the survivors?
As far as story, anyone familiar with the movie will know the basic plot and what to expect. These Alien novelizations are for the fans and those who want to know more about Ripley's galactic struggle to rid the universe of its most dangerous monster.
Five stars, indeed.
You may also like