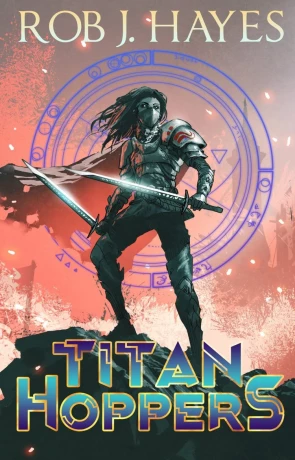 Book details
Titan Hoppers

ISBN:

Published:

July 2022

Pages:

469

Format reviewed:

E-Book

Review date:

08/08/2022

Language:

English
Humanity is a parasite sucking the recourses from the Earth until there are no more. Like a remora attached to the undercarriage of a shark, humans will one day need find a new host. The alternative is to change our ways, but that does not seem likely. Titan Hoppers by Rob J Hayes follows a flotilla of future humans in far off space who for the past generations have survived by harvesting the resource from a giant manufactured Titan ship they found. When the Titan dies, how will the people survive, especially when it starts to reveal the divide between the resource rich and resource poor ships?
Iro has always dreamed of becoming a Hopper tasked with venturing onto the nearby Titan, fighting monsters and gaining respect, but with no talent he remains an engineer. When the nearby Titan explodes, killing many good Hoppers including his sister, Iro realises that he will never leave the ship. That is until the flotilla comes across a new hope and Iro starts to feel his power. Could he be the key to the fleet's survival?
Titan is the type of high concept science fiction that is full of action and fun to read. The idea takes a little getting used to, but once you are onboard there is no stopping the action and intrigue. The idea is that these Titans are packed with resources that the human fleet needs to survive, but also monsters. Hoppers are gifted humans who have unlocked powers that let them defeat the monsters, over time they gain experience and open more gates of power, allowing deeper exploration of the Titan and greater rewards.
It does feel like an RPG or computer game in this aspect with its experience levels and powers, some of which you can choose, others are chosen by chance. I imagined it as a Space Marine academy where Iro is trained to become a Hopper and open his first gate. There is training segments, but also plenty of visits down to a Titan that are all action. Unmapped and full of creatures, even the most powerful Hoppers can be killed, never mind a bunch of trainees.
I enjoyed the action elements of Titan, but for me it was the undercurrent of politics and intrigue that elevated the book. Through Iro's eyes the reader begins to see that the various ships in the fleet are not equal and that those with resources are happy to cut off the poorer if it suits their agenda. There are class divides that interlace the need to survive as a people. Iro's manifestation of power from a lower ship means that he may just hold the key to survival and societal change.
As the book progresses it becomes increasingly apparent that there is too much to Iro's story and that of the fleet to conclude in one book, so this is part of a series. Hayes sprinkles plenty of seeds that will flourish later. Who are the mysterious people on the Titan, who built the Titans, will the fleet survive their internal class struggle? With a younger protagonist and action feel, Titan is a book that I feel would appeal to the younger science fiction fan, but even older readers can enjoy wondering what is going on below the surface.
You may also like