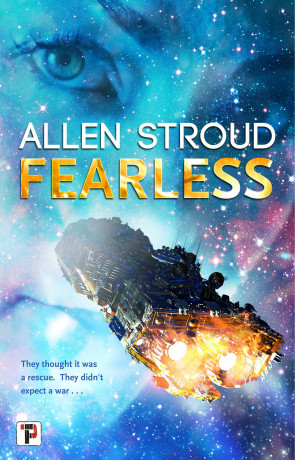 Book details
Fearless

Publisher:

Flame Tree Press

ISBN:

9781787585423

Published:

September 2020

Pages:

368

Format reviewed:

E-Book

Review date:

27/10/2020

Language:

English
About the author
It's 2118 and humanity has not only got over the coronavirus, but have reached out into space - colonising the Moon, Mars, Ceres and Europa. It's still early days of mankind's expansion though and the ship Khidr is part of a small fleet who travel between the different colonies, assisting the huge commercial freighters that carry essential supplies from mother earth and making sure the lanes stay clear. Captain Ellisa Shann is in command of the 25 crew on board - a talented tactician who has taken naturally to space, partly as it has levelled the playing field for her, born as she was without legs. While on their regular 6-month long patrol, the Khidr picks up a distress call from the freighter Hercules, and the mystery begins.
I love the style of this book. Far from the Star Trek glamour of transporter beams, phasers and ship-wide artificial gravity, Fearless is much more down to earth and depicts a more realistic life spent in outer space. Any real attempt at gravity is as a result of spinning a section of the ship fast enough - elsewhere it's a case of moving through the ship in zero-g with rails and hand-holds. It describes the fragility of survival in a small container, hurtling through a dangerous, unforgiving medium. The dangers aren't limited to the cold vacuum of space either. Find yourself not strapped down during fast changes in speed - you die. Tiny hole in the thin fabric between the safe, oxygenated environment and outside - you die. Other ships start throwing missiles, rocks or other projectiles in your direction - you die. It's pretty much what I imagine living in Australia is like, where almost seems to be deadly. This realism extends to the operation of the ship and how flight and combat are handled. These aren't some military-hardened space forces, but civilians who are there to help and rescue those in trouble which again highlights how different this book is.
Then there is the fact that the author (Chair of the BSFA and fellow SFBook reviewer Dr Allen Stroud) has chosen to make the protagonist (Shann) disabled, something that happens far too infrequently in literature. It's an excellent choice and helps to normalise the often marginalised sectors of our society who differ from others. I love how Shann isn't defined by her disability, but her drive and ambition are encouraged because of her circumstances.
The story is intriguing, set as it is in the early days of humanities expansion into space, as mentioned there isn't any military or real "space force". There hasn't really been a need for such, instead ships like the Khidr help any ship that needs it. But there are also plenty of twists to this story and even before they get to the Hercules someone commits sabotage on their own vessel - meaning there is a much bigger problem than one disabled ship. As such it plays out like a cross between a space opera and a murder mystery - a combination that works well. The characters are well realised and engaging, I found it easy to care for Shann and her crew. I loved how the POV switches to a different crew members so we get to see the events through different people's eyes. We also get to know these different people, their motives, drives and fears. Shann feels like the anti-gravity helps to level the playing field, Stellis seems to have had troubles with finances back home while Johannson has ambitions to captain their own ship . The pace is fast and there is plenty of action as things escalate.
Allen has really done his homework to make everything feel real, from the way that events play out, to manoeuvring and fighting in space to space walks - it all feels incredibly realistic. This extends to the decisions Shann and the others make also, which are intelligent and often quite inventive. While it's a contained story, there are enough loose ends to continue the story and I really do hope Allen does.
Fearless is wonderful, modern, inclusive and clever science fiction that deserves to be a part of anyone's collection.
Written on 27th October 2020 by Ant .
You may also like