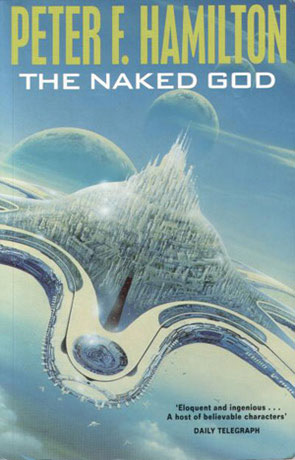 Book details
The Naked God

Series:

Nights Dawn Trilogy

Publisher:

ISBN:

Published:

October 1999

Pages:

1184

Format reviewed:

Paperback

Review date:

01/03/2000

Language:

English

Age Range:

N/A
Books in the series
About the author
The Naked God is the third novel in the Nights Dawn Trilogy by Peter F Hamilton.

Sitting with the final and conclusive volume of The Nights Dawn and looking at it's massive 1150 pages (at 1.5Kg it's just about the heaviest book I've ever read), I felt kind of intimidated. My faith in Hamilton and his ability to keep up the pace and deliver something that could justify all those pages, started to falter. I felt weak. I felt drained of energy even before I had turned the first page. But I did turn that first page, and fifty pages and uncounted minutes later, I was strong and reborn in my faith.

Let me make it clear here up front: Hamilton does keep up the pace and he does deliver in the end.

And the pace it's just about the only problem I had with this book – I found it too much. Every 3-4 pages the focus would change to another of the uncountable threads in the story. The actual events taking place in the small bits and glimpses what we see from the numerous sub threads, just gets to insignificant at times, making it hard to keep track of what's actually going on. It's like looking at a giant complicated painting, from a couple of centimetres away and being yanked to some other part of the painting every time you had focused you eyes long enough to get an idea of what you where looking at. It's very hard to see the total picture.

But the strange thing is that it actually works. During the last fifty pages Hamilton grabs you by the …eh… pants and just about drags you out to a fitting viewing distance from his painting. And then you see that it all just fits together and that no part could have been left out, without leaving blind spots in the picture.

Go read!
Written on 1st March 2000 by TC .
You may also like