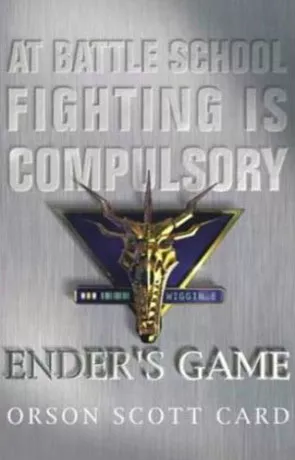 Book details
Enders Game

Series:

Ender Saga

Publisher:

ISBN:

Published:

Pages:

336

Format reviewed:

Paperback

Review date:

01/04/2002

Language:

English
Books in the series
Awards won
About the author
Enders Game is the award winning first novel in the Ender Saga, by Orson Scott Card.

A trip to the library, nearly always bring something good with it. Just the feeling of being surrounded by all those books, can bring a joy to my heart, that can't even be totally thwarted by the fact that they had merged the (english-) fantasy and the science fiction departments, and just calls them "fantasy" now.

This copy of Ender's Games, which I have for some strange reason never read, actually have a small sticker on it that says "Fant" (so that it easily can be returned to the correct department). It isn't that important, but one thing that I'm absolutely sure of, is that this isn't fantasy.

Ender's Games is a rather special book, first of all it's a reworking of Scott Cards first published novel, and secondly the story is, to my knowledge one of the only Science Fiction novel, where the main character, and nearly every other character, is a kid. Ender, as he is called, is of cause a special kid and even among all the gifted kids at Battle School, he is special. Ender is destined to great things, but first he has to survive Battle School. That may sound a bit stupid, like bootcamp in Full Metal Jacket, but for kids. But it isn't, it a lot more like Lord of the Flies and Scott Card does a wonderful job of making the psychology of the school work. While Ender is kept a the limit of what his young psyche can handle, the reader is kept on his toes. You never know what's going to happen next and you'll soon fear the worst and hope the best for Ender.

About eighty years ago humanity, nearly got it's ass kicked by the "buggers" (aliens) – to make sure that it doesn't happen again, the brightest kids of each generation, gets shipped of to Battle School, to learn how to fight the Buggers. In all that time nobody good enough to be trained for high command has come to Battle School, but Ender may be the one – to make sure that he has the right stuff the teachers of Battle School throw everything that they have at him.

This is a fantastic book. It easily deserves both the Nebula and the Hugo and luckily it got both of them.
Written on 1st April 2002 by TC .
You may also like