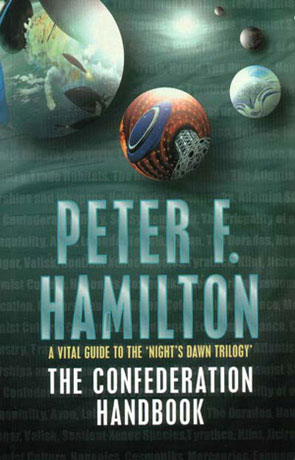 Book details
The Confederation Handbook

Publisher:

ISBN:

Published:

2000

Pages:

240

Format reviewed:

Paperback

Review date:

14/03/2002

Language:

English

Age Range:

N/A
About the author
The Confederation Handbook is a stand alone novel set within the same universe as the Nights Dawn Trilogy.

"A Vital Guide To the Night's Dawn Trilogy" the subtitle of The Confederation Handbook says and that pretty much says it all.

Two hundred and thirty pages of facts about the culture, politics, technology, people and aliens of the Nights Dawn Trilogy. It contains the following chapters:

Adamist Culture
Edenist Culture
Starships and weapons
Members of the Confederation in 2610
Sentient Xenoc Species
Principal Characters
Timeline


I read a couple of chapters sequentially, but got a bit bored with that and started hopping around. Both ways worked just fine, except you have to know what you are looking for to be able to find it and there is no index. All the articles that I read where well written and contained lots of interesting facts. Not a must read, not even for rabid fans of the Nights Dawn Trilogy, but a good way to get the final pieces of the puzzle to fall into place. I especially enjoyed the chapters on the Kulu kingdom and the Seldanas.
Written on 14th March 2002 by TC .
You may also like