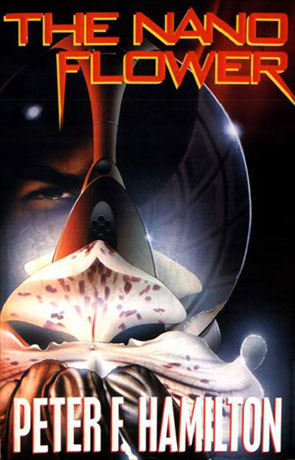 Book details
The Nano Flower

Series:

Greg Mandel Trilogy

Publisher:

ISBN:

Published:

March 1995

Pages:

680

Format reviewed:

Paperback

Review date:

01/12/1999

Language:

English

Age Range:

N/A
Books in the series
About the author
The Nano Flower is the third volume in the Greg Mandel Trilogy by Peter F Hamilton.

Greg Mandel is back, Julia is back and, well actually a hole bunch for people from Mindstar Rising is back in this book. Ready for more post-warming big corporate dealings and mercenary action. This book is the third in the Greg Mandel saga, which means that I've skipped number two. The Nano Flower read just fine anyway.

Julia is still the owner of Event Horizon and everything is running smoothly, except that her husband has disappeared. Now he sends her a strange flower – a flower that on further investigation turns out to be not only alien but also extremely advanced. Julia calls on her old and now retired friend, ex-Mindstar, Greg Mandel to find not only her husband, but also the alien behind the flower (the message here is: flowers don't travle interstellar space alone - not if they are nice flowers).

Hamilton has matured a lot since Mindstar Rising and this book is close to having the full power and force he demonstrates in Reality Dysfunction. Hamilton not only spins a fantastic roller coaster ride of an action tale, but he also manages to throw in some very interesting ideas.

Enjoy!
Written on 1st December 1999 by TC .
You may also like