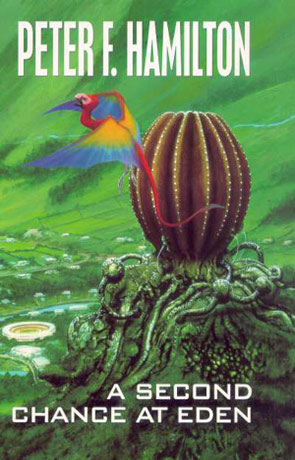 Book details
A Second Chance At Eden

Publisher:

ISBN:

Published:

1998

Pages:

512

Format reviewed:

Paperback

Review date:

01/11/1999

Language:

English

Age Range:

N/A
About the author
A Second Chance At Eden is a stand alone collection of short stories set within the Confederation Universe of the Nights Dawn Trilogy. Written by Peter F Hamilton.

Seven stories in 430 pages (the typeface and line spacing is fairly generous in the hardcover version I have - the normal paperback version will probably be around 300 pages). All of the stories take place in the same universe as the Night's Dawn trilogy, but before the beginning of it.

First let me say that nearly all of the stories are wonderful – in fact there was only one of the stories that I found a bit weak (the first one). Which is also, due to the chronological ordering of the book, the one that is the least connected to the universe we know from Night's Dawn. Other than that all of the stories are very interesting not only in their own right, but also as a background and as insight into the history of the Night's Dawn universe.

My favourite story is probably the title story (which takes up about a third of the book). It takes place in the habitat Eden right after it is ..hm.. born. The chief of police doesn't even get the time to unpack his bags before he has to solve the first murder on Eden. It should be easy as the habitat monitors 99% of everything that takes place in Eden, but of course it's not as simple as rewinding a video tape and seeing the murder take place, identifying the killer and then pick him or her up (wouldn't be much of a story then, would it).

A must read if you have read or plan to read the Nights Dawn Trilogy.
Written on 1st November 1999 by TC .
You may also like