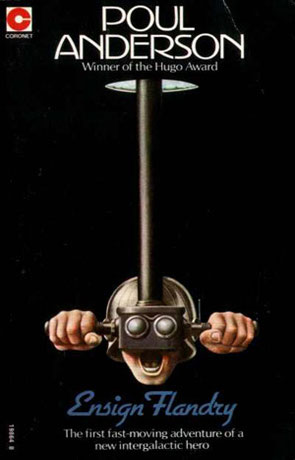 Book details
Ensign Flandry

Publisher:

ISBN:

9781600000000

Published:

1996

Pages:

208

Format reviewed:

Paperback

Review date:

01/03/2001

Language:

English

Age Range:

N/A
About the author
The Merseian Empire has, for some strange reason, decided to help out the water people of Starkad. Which means that the good old Earth Empire, simply has to help the land people of Starkad to keep the status quo.

Now if I tell you this story was published right in the middle of the Vietnam War, the parallels are rather easy to spot. Right in the middle of this we have Ensign Flandry, fresh from the naval academy. By chance he becomes the key to peace, not only on Starkad but also between the Merseian Empire and all humanity. But firstly he has to figure what the Merseians really want with Starkad, which in itself holds no military or resource values. And as we all know the Soviets … eh … I mean the Merseians aren't in the business of helping backward natives out of pure altruism.

Beside the rather passé parallels to the Vietnam War (which is probably what won it the Hugo Award), Ensign Flandry is a rather nice action story. Flandry is rather annoying in the way young rocket fuelled ensigns are supposed to be. The really interesting thing, about this book is the parallels to the times it was written in. Noticing how the natives and ordinary Merseians are described, compared to both human and Merseian top military personnel, is worth the read in itself.
Written on 1st March 2001 by TC .
You may also like