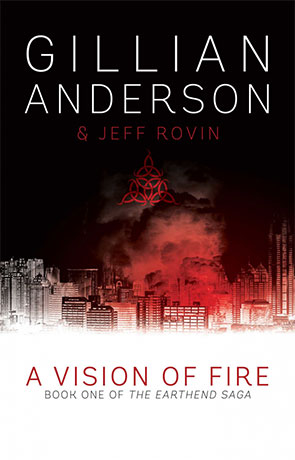 Book details
A Vision of Fire

Publisher:

ISBN:

978-1471137709

Published:

October 2014

Pages:

304

Format reviewed:

Hardback

Review date:

26/11/2014

Language:

English

Age Range:

15-
I was a big fan of the X-Files series in it's earlier days, although towards the later end of the show running I got fed up with hundreds of new questions rising without any real answers to the many others. I understand from a perspective of belief this makes perfect sense but it is also damn annoying when you are watching it.
Dana Scully was however a great character, played by a talented actress and as soon as I learned she had co-written a book I had to see how much of the X-Files and Scully (if any) would be injected into the authors literary voice. A quick glimpse at the cover could leave you to believe that Anderson wrote the story single handed, her co-author Jeff Rovin in a tiny, dark coloured font below.
A Vision of Fire isn't a million miles away from being an X-Files episode, it's a thriller with a slight supernatural twist that is otherwise grounded in reality. The story does however seem a bit weak and the book meanders, it wonders along without that much going on. Stretched out as it is the plot never really gains any tension (which is actually quite important in a thriller). It's a far cry from the heights of 731 or Squeeze - the story actually struggles to compete with Never Again or even Ghost in the Machine.
I found it difficult to relate to or feel anything for the protagonist, she never really emerged from a one-dimensional figure and as such it's almost impossible to become emotionally attached to the book.
It's not all bad though, towards the end of the book the pace does pick up and the story gets a great deal more interesting. Like the X-Files however the ending leaves you with more questions than answers. It is clearly the start of a series but doesn't stand up enough as a stand-alone - something the first book in a series should always try to do.
I wanted to like A Vision of Fire a lot more than I did, almost as much as Mulder wanted to believe. It's not thrilling enough to be a thriller and doesn't have enough fantastic or horrific elements to feel like a genre novel. The actual idea of the story is a good one, it just hasn't been as realised as well as it could have. An ok read and nothing more.
Written on 26th November 2014 by Ant .
You may also like