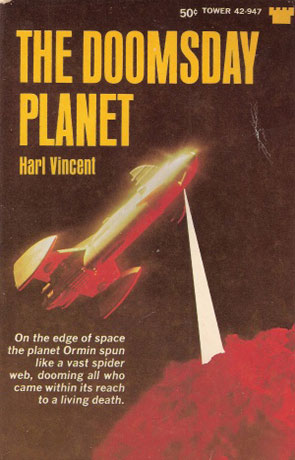 Book details
Doomsday Planet

Publisher:

ISBN:

Published:

1966

Pages:

Format reviewed:

Paperback

Review date:

22/11/2008

Language:

English

Age Range:

N/A
Doomsday Planet is a classic science fiction novel by the author Harl Vincent.

On the edge of known space the planet Ormin spins a massive invisible web, radiating a deadly and mysterious energy. Far out in space aboard the ethership Meteoric, Jack Donley was the first to sense the sinister, almost imperceptible attraction of the strange power source.

Then the other fellow travelers felt it too - a monotonous throbbing that pulsed through the ship, a strange sensation that swept through every man and woman on board.

Slowly, inexorably, the crew of the Meteoric felt themselves being pulled toward the rogue planet hovering on the outermost edge of space. Ormin, the Doomsday Planet, where all who set foot there were doomed to living death.

Originally written in 1966, Doomsday Planet is a classic science fiction novel, albeit one that does ever so slightly show it's age.
Written on 22nd November 2008 by Ant .
You may also like